This shop has been compensated by Collective Bias, Inc. and its advertiser. All opinions are mine alone. #ChooseMazola #CollectiveBias
Thank you to Mazola® Corn Oil for sponsoring this recipe for Turkey Noodle Casserole. We are sharing our favorite turkey noodle casserole recipe with you today! You will find directions included for both leftover turkey casserole and ground turkey casserole in this post! We hope you enjoy serving this cheesy turkey casserole to your family. We sure did! This recipe is made using Mazola Corn Oil instead of butter while still coming out tasting hearty and delicious. A clinical study showed Mazola Corn Oil reduces cholesterol 2x more than extra virgin olive oil. To learn more about this claim, see Mazola.com.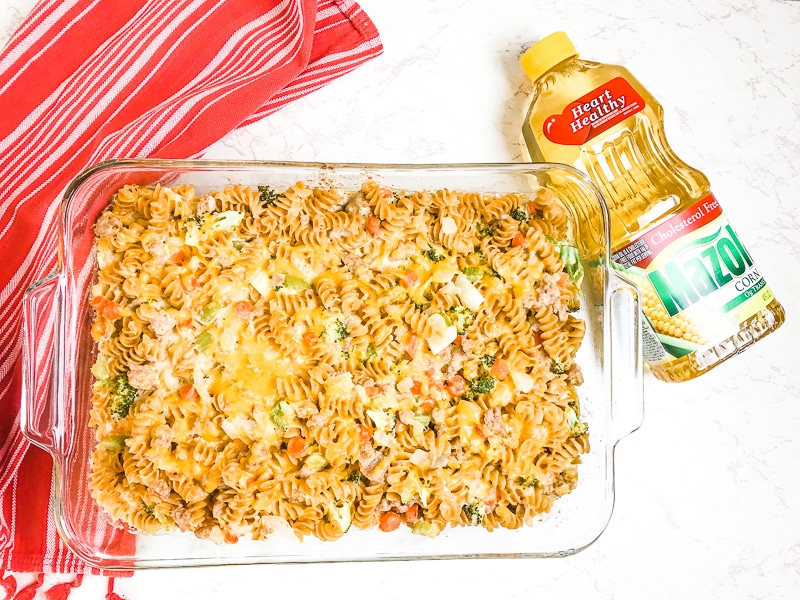 I'm sharing how to make this turkey and noodle casserole with both leftover turkey and ground turkey so you can enjoy this tasty turkey bake all year long. We love making leftover turkey & noodle casserole after Thanksgiving, but I find myself craving it all year long. So I experimented with making this recipe using ground turkey and it totally worked!
I love making casseroles for my family. They are so easy to make, usually with less than 20 minutes of hands-on time, and tend to include everything I need for a balanced meal – all in one dish! Some of our other favorite casseroles are Chicken Bacon Casserole, Tuna Casserole, Cheesy Ranch Chicken and Potato Casserole. Chicken and Black Bean Casserole, and Nacho Cheese Casserole. I have also shared a casserole freezer meal plan with printable shopping list, if you like to stock your freezer for busy nights.
How to make turkey noodle casserole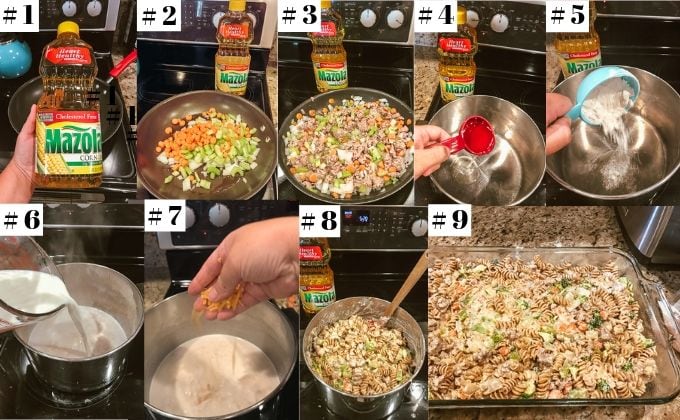 This turkey noodle casserole is made with no soup. Instead, we include an easy tutorial for making homemade bechamel sauce.
Start by heating up some Mazola Corn Oil in a large skillet.
Add your veggies and ground turkey (If using leftover cooked turkey, leave it out until you mix up the casserole).
Cook until veggies and turkey are soft and browned. Set aside.
Next add corn oil to a large saucepan.
Stir in an equal amount of flour and mix until browned.
Slowly whisk in milk and continue to stir until sauce is thickened.
Mix in some shredded sharp cheddar cheese.
Combine the cooked veggies, turkey, cooked pasta, chopped broccoli, and sour cream to the pot of sauce. Gently stir.
Pour the noodle mixture into a greased casserole dish.
Top with leftover cheese and bake for 30 minutes.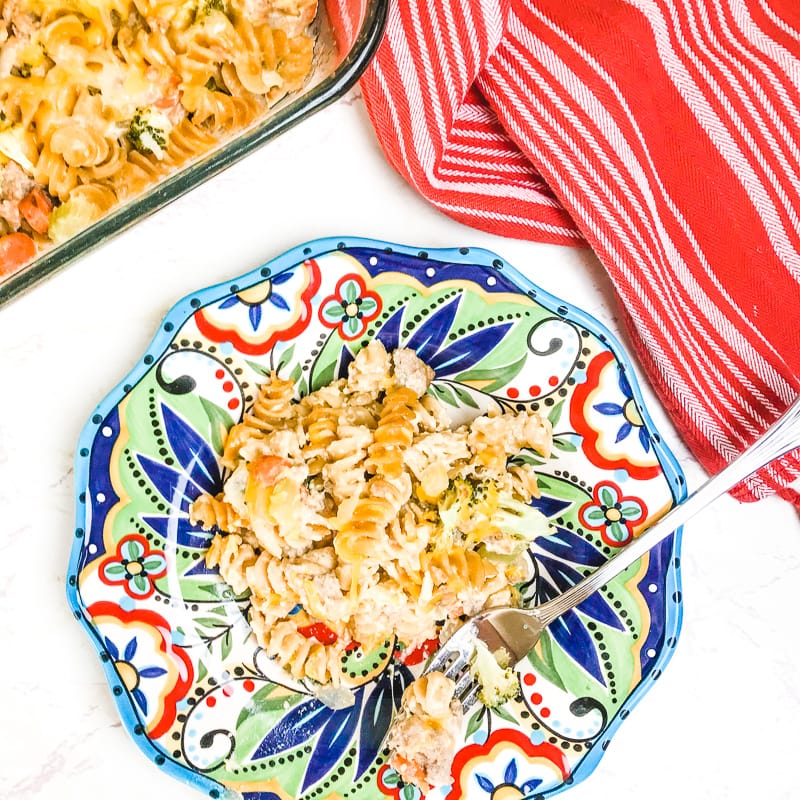 Three better-for-you swaps for a lighter version of leftover turkey casserole
In this recipe, we swapped butter for Mazola Corn Oil. We used whole what pasta to add in some whole grains. We also switched out ground beef for leaner ground turkey. Even with these three swaps, this recipe still tastes like the filling comfort food that it is! It makes a huge casserole and feeds my family of 5 twice.
September is National Cholesterol Awareness Month. Mazola Corn Oil is an all-purpose, cholesterol-free cooking oil that is a smart heart-healthy* choice for your family. *See Mazola.com for more information on the relationship between corn oil and heart health. Mazola has a variety of uses including baking, grilling, sautéing, stir frying, or mixing up a marinade or dressing. You can reduce saturated fats and cholesterol in your meals easily with simple swaps, such as substituting butter with Mazola Corn Oil.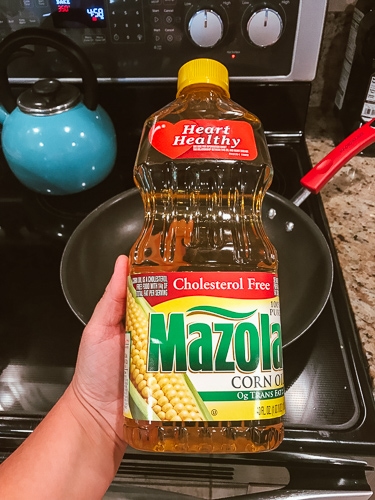 Can you freeze turkey noodle casserole?
Yes. If you want to freeze this casserole, you totally can! There are a couple of ways to freeze turkey noodle casserole:
First, if you don't want the huge casserole all at once, I recommend cutting it in half. Only bake half of it. Put the other half in a separate casserole dish (we love disposable foil containers for this), wrap in a couple of layers of foil, and freeze up to 3 months. When ready to cook, defrost in your fridge overnight and bake as directed. Make sure to read our post on how to freeze casseroles, too.
This recipe can also be doubled. Again, don't bake the second batch. And freeze as described above.
Finally, you can freeze turkey noodle casserole after baking it. Place any leftover and cooled turkey and noodle casserole and place in a freezer-safe dish. Wrap with 2 layers of foil. Label and date the foil using permanent marker. Freeze up to 3 months. Defrost overnight in the fridge and reheat in the oven or in the microwave with a little bit of milk mixed in.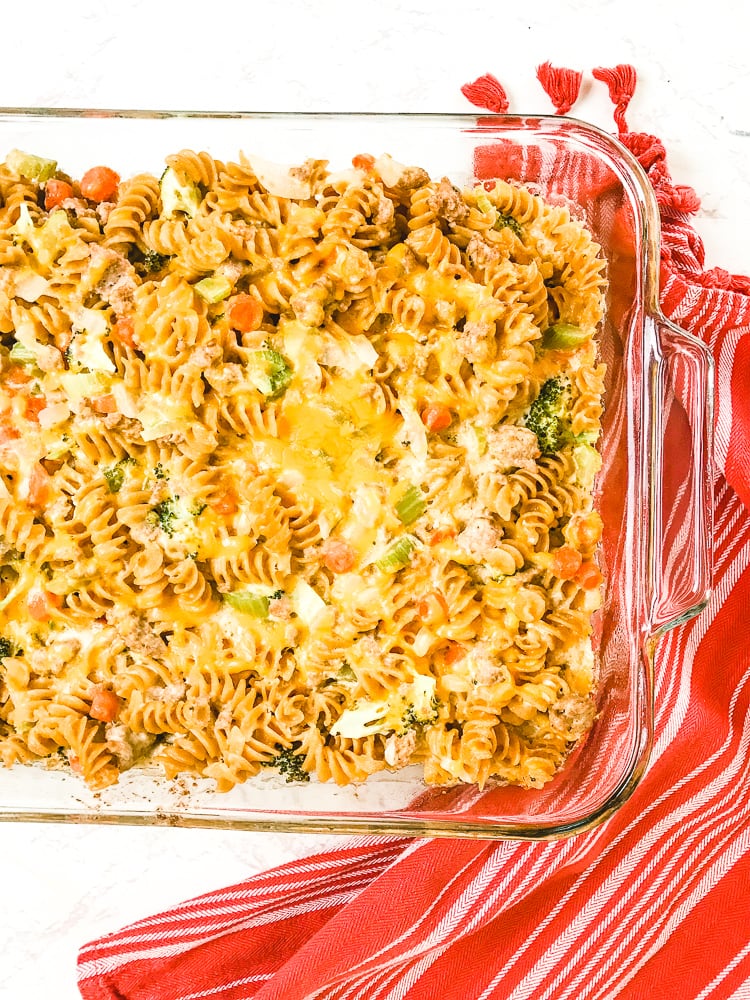 How long is leftover turkey good for in the fridge?
Leftover turkey will stay fresh in the fridge for 3-4 days. Any longer than that, and you will want to put in the freezer until you are ready to eat it.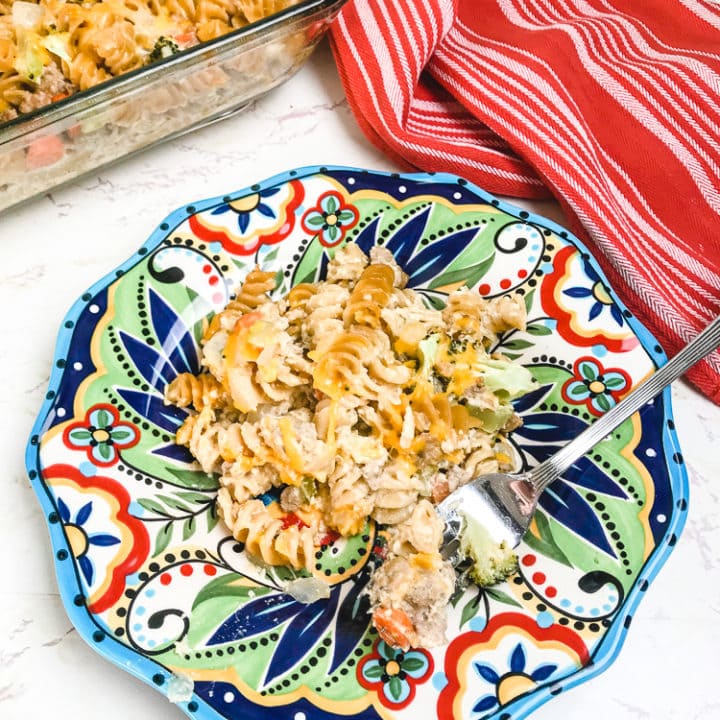 Turkey Noodle Casserole Recipe
We are sharing our favorite turkey noodle casserole recipe with you today! You will find directions included for both leftover turkey casserole and ground turkey casserole in this post! We hope you enjoy serving this cheesy turkey casserole to your family. We sure did!  
Ingredients
2 tablespoons Mazola Corn Oil
1/2 large yellow onion, chopped
2 medium carrots, diced
2 stalks celery, diced
1 pound ground turkey or 4 cups leftover cooked turkey
1/2 teaspoon salt
1/4 teaspoon black pepper
1/8 teaspoon cayenne pepper
1/4 cup corn oil
1/4 cup all-purpose flour
3 cups whole milk
1 1/2 cups shredded sharp cheddar cheese
1 pound whole wheat rotini pasta, cooked according to package directions
1 cup sour cream
1 cup chopped broccoli
1/2 cup shredded sharp cheddar cheese
Instructions
Preheat oven to 350 degrees. Grease a 5-quart (11 x 15) casserole dish and set aside.
Heat 2 tablespoons corn oil in a large skillet over medium-high heat.
Mix in onion, carrots, and celery.
If using raw ground turkey, add it to the skillet, too.
Season with salt, pepper, and cayenne.
Let cook, stirring occasionally, until onions are soft and meat is browned, about 8 minutes.
Meanwhile, heat 1/4 cup corn oil in a large sauce pan over medium heat.
Pour in flour and stir until browned, about 1 minute.
Slowly whisk in milk. Cook, stirring occasionally, until thickened. About 6 minutes.
Mix 1 1/2 cups cheese into milk sauce and turn off heat.
Add cooked vegetables, turkey, cooked pasta, sour cream and chopped broccoli to pot of sauce. Gently stir.
Spread casserole mixture into greased casserole dish.
Sprinkle with remaining 1/2 cup cheese.
Bake, covered, for 25 minutes. Remove cover from casserole dish and bake an additional 5 minutes.
Remove from oven and serve hot.
Nutrition Information
Yield

10
Serving Size

1 cup
Amount Per Serving
Calories

680
Total Fat

43g
Saturated Fat

17g
Trans Fat

1g
Unsaturated Fat

21g
Cholesterol

173mg
Sodium

551mg
Carbohydrates

28g
Net Carbohydrates

0g
Fiber

3g
Sugar

6g
Sugar Alcohols

0g
Protein

45g
Nutrition information is an estimate.
PIN THIS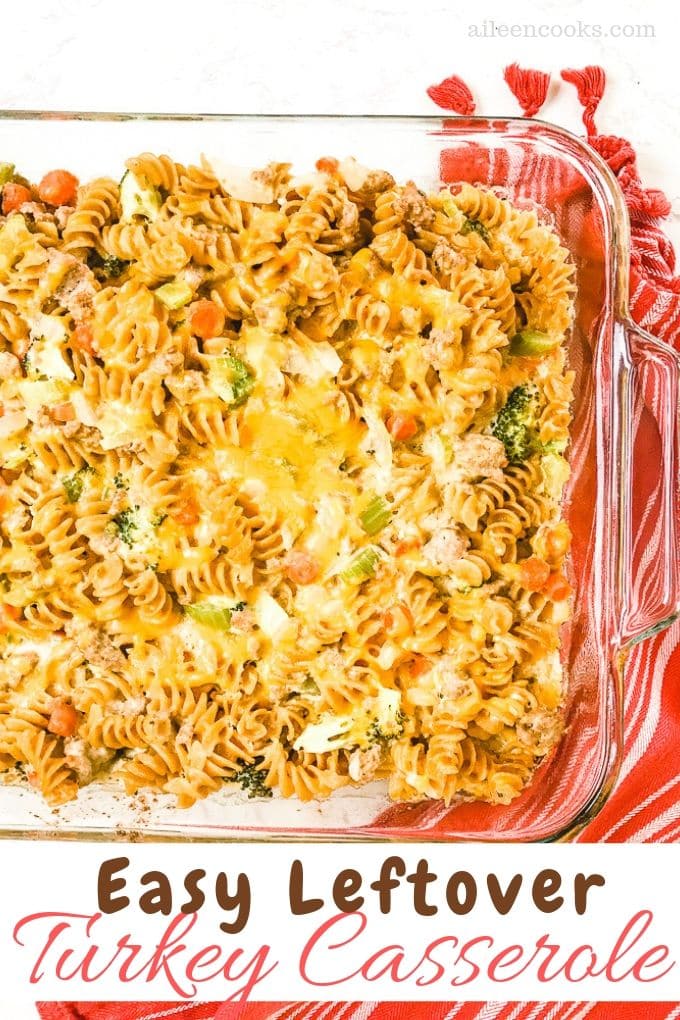 My family loves this easy turkey noodle casserole made with leftover turkey or lean ground turkey. We hope you enjoy it, too! If you try this recipe, let us know what you think with a rating or comment. You can also tag us on social media using @aileencooks.