Make perfectly tender pork tenderloin with a crispy skin! This recipe for garlic herb air fryer pork tenderloin is simple and delicious.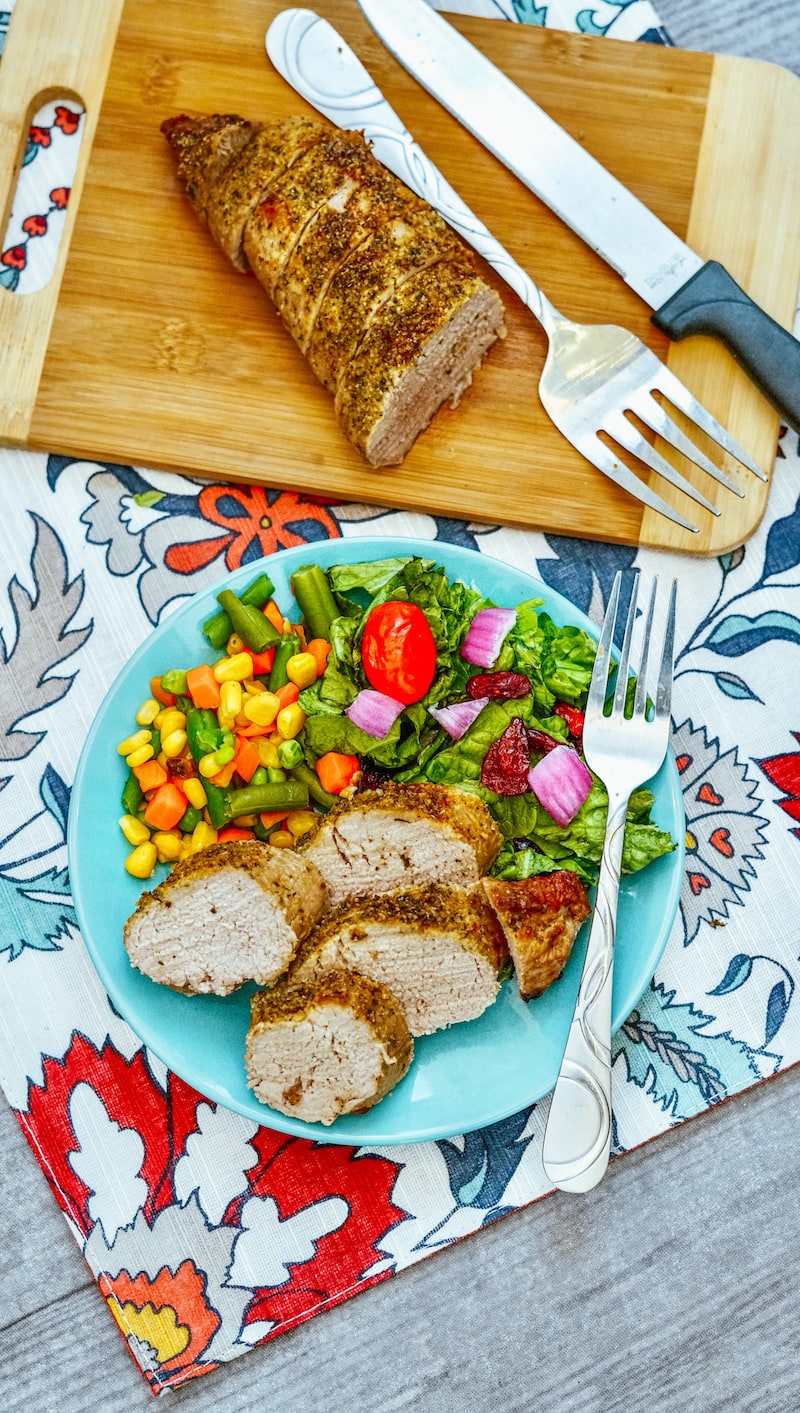 I love cooking with my air fryer. It's so easy to use and gives you that crispy skin on meat that I love! This pork tenderloin recipe is one I have meaning to share with you for a while!
If you are looking for more tasty air fryer recipes, make sure to bookmark my recipes for Air Fryer Breaded Pork Chops – Extra Crispy! air fryer meatloaf, air fryer sausage, and air fryer chicken parmesan.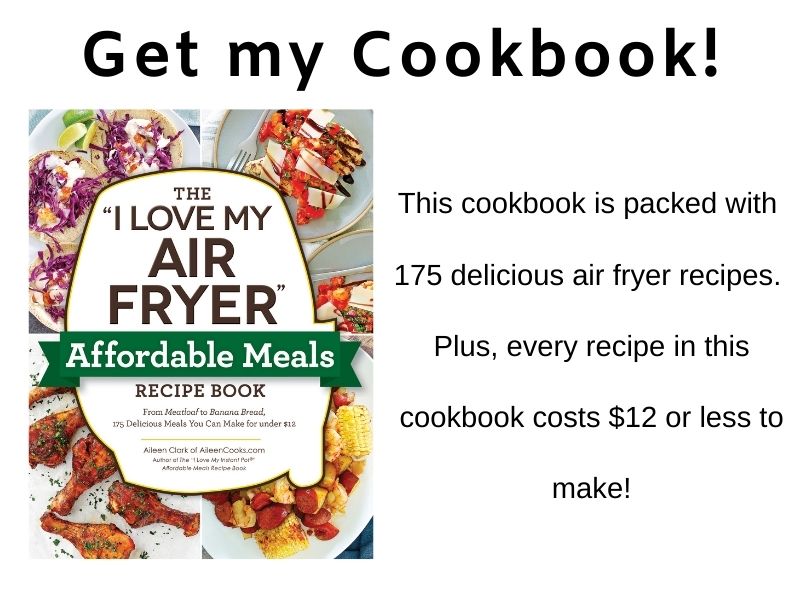 What air fryer was used?
This recipe was tested with the Power AirFryer Oven. However, any air fryer (oven or basket) may be used to cook pork tenderloin. Keep in mind that all air fryers very, so your cook time with very as well. The best way to know when your tenderloin is done is by using a meat thermometer. The internal temperature should be 145°F.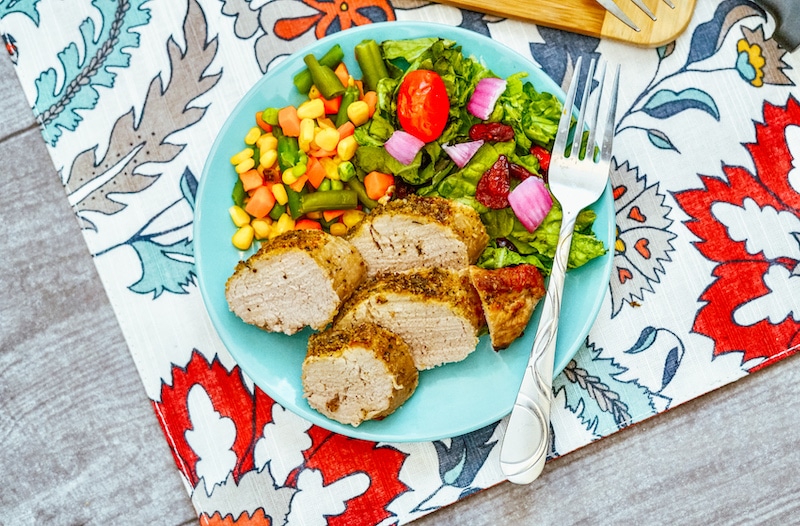 What is garlic herb seasoning?
Garlic herb seasoning is a great tasting seasoning you can find in the seasoning section of your local grocery store. It is often salt free. We like McCormick brand of seasonings. If you are cooking the pork tenderloin with unsalted butter, then you may want to add a bit of salt to the pork tenderloin when seasoning with the garlic and herb seasoning.
How to make pork tenderloin in an air fryer?
Start with a tenderloin that has come to room temperature.
Preheat your air fryer to 400ºF.
Brush the pork all over with melted butter. You want it heavily coated!
Air fry the pork for 25 minutes.
Remove the pork, brush it with more melted butter and rub it all over with garlic herb seasoning. If using unsalted butter and a salt free seasoning, you can add salt. Totally optional.
Air fry the pork for an additional 5 minutes, until it reaches an internal temperature of 145ºF.
Let rest for 5-10 minutes, serve, and enjoy!
Refrigerate any leftovers and eat within 2 days.
Do you need to let pork rest?
Yes. It's best to let pork rest for 5-10 minutes after cooking. This allows the juices to redistribute and helps prevent it from drying out.
Should Pork Tenderloin be at room temperature before cooking?
Don't take your pork tenderloin directly from the refrigerator and cook it. We recommend letting it come to room temperature prior to cooking. Depending on the temperature of your cooking, this takes about 30 minutes.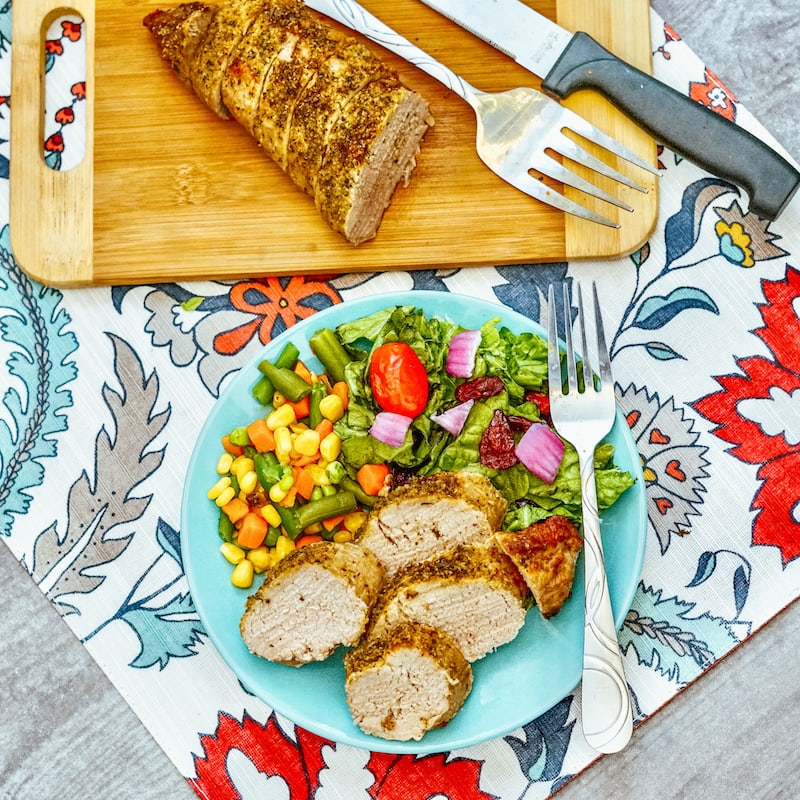 Do you cover a pork tenderloin in the air fryer?
We recommend air frying pork tenderloin uncovered.
What to serve with garlic herb pork tenderloin?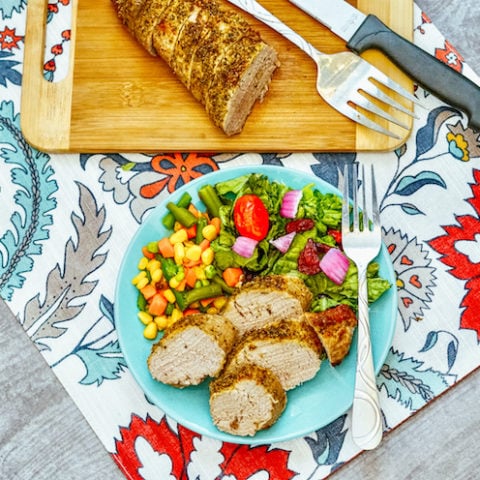 Garlic Herb Air Fryer Pork Tenderloin Recipe
Additional Time:
10 minutes
Make perfectly tender pork tenderloin with a crispy skin! This recipe for garlic herb air fryer pork tenderloin is simple and delicious.
Ingredients
2 pound pork tenderloin, room temperature
1/2 cup butter, melted
2 tablespoons garlic and herb seasoning
Instructions
Preheat air fryer to 400 degrees.
Coat pork tenderloin with 1/2 of melted butter.
Place butter tenderloin in air fryer.
Cook for 25 minutes.
Remove pork from air fryer. Coat in remaining butter and rub garlic and herb seasoning all over the tenderloin.
Place pork tenderloin back into the air fryer and cook for an additional 5 minutes, until it's internal temperature reaches 145°F.
Remove from air fryer. Let rest 10 minutes, and serve.
Notes
This recipe was tested in a Power AirFryer Oven. Cook times may very. Make sure to always check the internal temperature of the meat to ensure it is cooked throughly.
Recommended Products
As an Amazon Associate and member of other affiliate programs, I earn from qualifying purchases.
Nutrition Information
Yield

6
Serving Size

1/3 pound
Amount Per Serving
Calories

406
Total Fat

24g
Saturated Fat

13g
Trans Fat

1g
Unsaturated Fat

9g
Cholesterol

168mg
Sodium

285mg
Carbohydrates

1g
Fiber

0g
Sugar

0g
Protein

45g
Nutrition information is an estimate.
Save this recipe for later on Pinterest.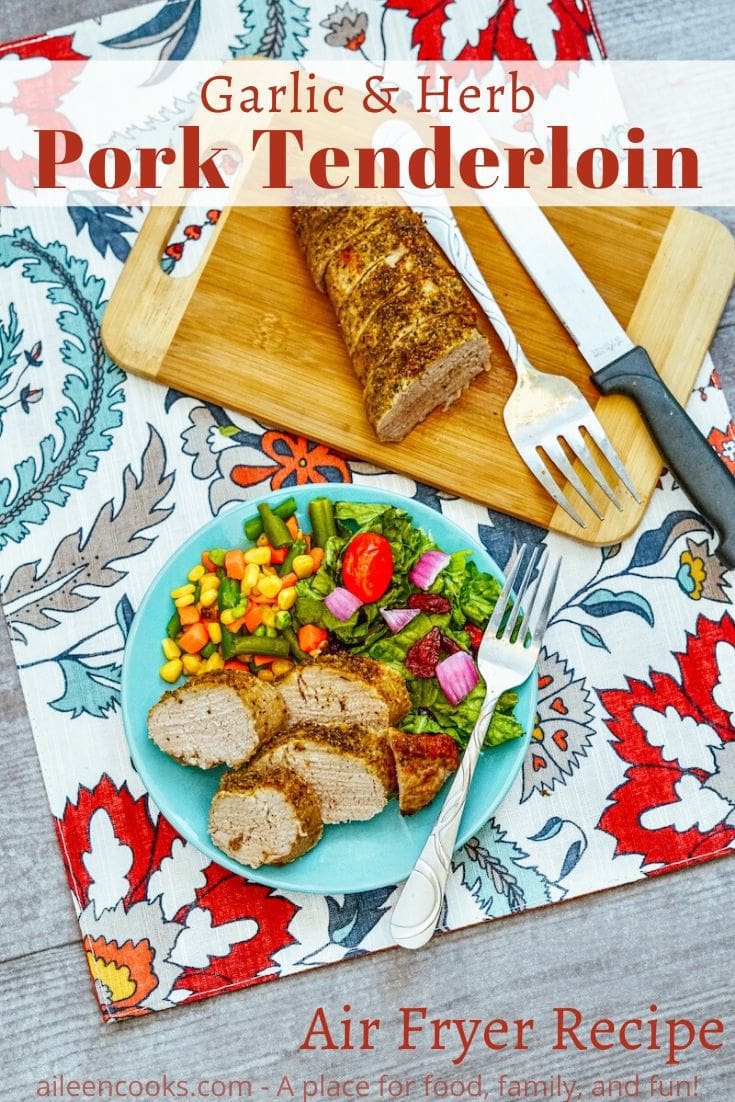 Did you try this recipe for Air Fryer Pork Tenderloin? Let us know what you thought with a rating and comment.