Air fryer meatloaf is juicy on the inside and crispy on the outside. Plus, making meatloaf in an air fryer is faster than the oven! You are going to love this classic meatloaf recipe in the air fryer.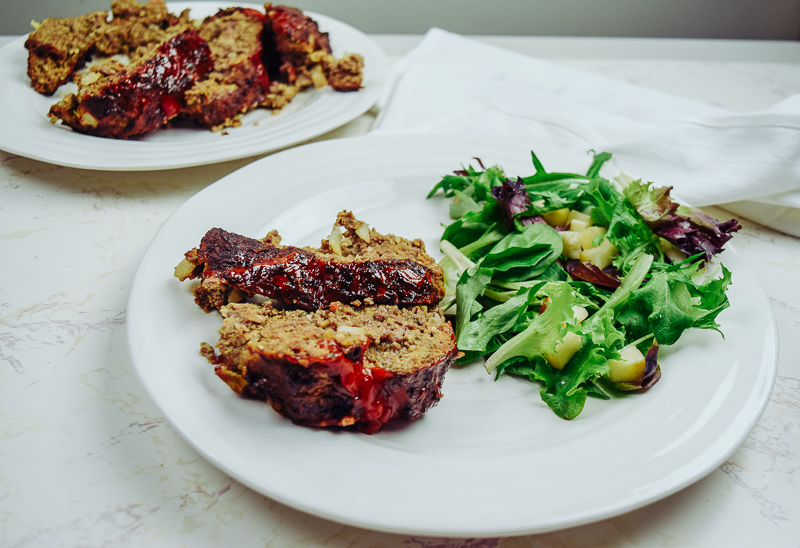 If you are looking for more air fryer inspiration, try our recipes for Garlic Herb Air Fryer Pork Tenderloin, Air Fryer Drumsticks, Air Fryer Chicken Parmesan, and Air Fryer Whole Chicken.
Making meatloaf in an air fryer
If you want to try air frying meatloaf, it is very similar to making it in the oven. You start with a combination of ground beef, onion, garlic, spices, egg, bread crumbs, and milk. Mix it all together and form it into a loaf.
Instead of using a loaf pan, you will place it into the air fryer without a pan, so it won't be quite as uniform. It sure tastes good though, so it's worth it!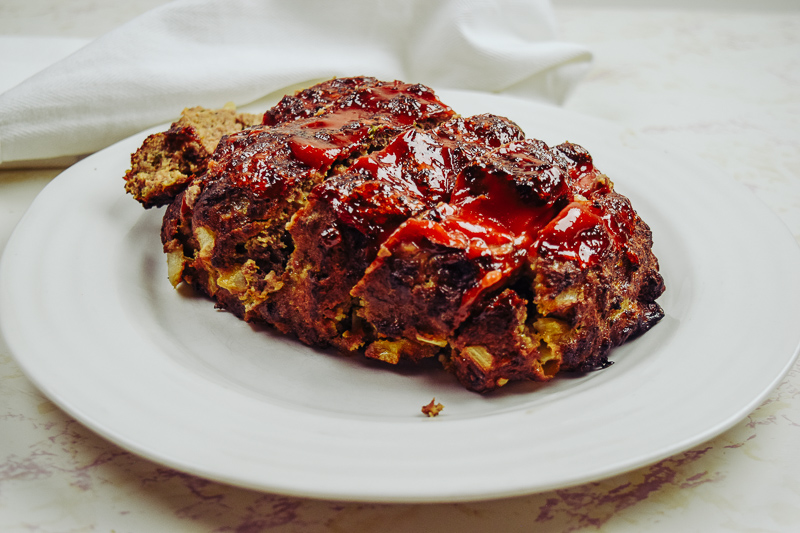 Cook it on a lower heat than you would in the oven because the outside has the tendency to want to burn. I made this meatloaf three times before I found the right temperature that cooked it thoroughly without burning it. That sweet spot is 330 degrees.
Basket Air Fryer or Air Fryer Oven?
I made this meatloaf in my Cosori Max XL basket style air fryer. It is only a 1-pound meatloaf, so it will fit in smaller air fryers. It can also be made in an air fryer oven with the same directions.
I have found that most recipes cook at the same time and temperature whether in a basket or oven air fryer. An air fryer oven just has more room to accommodate larger portions or a larger cut of meat (like a large rotisserie). However, some air fryer ovens do cook slightly slower, so it is important to check the internal temperature of your meat before serving.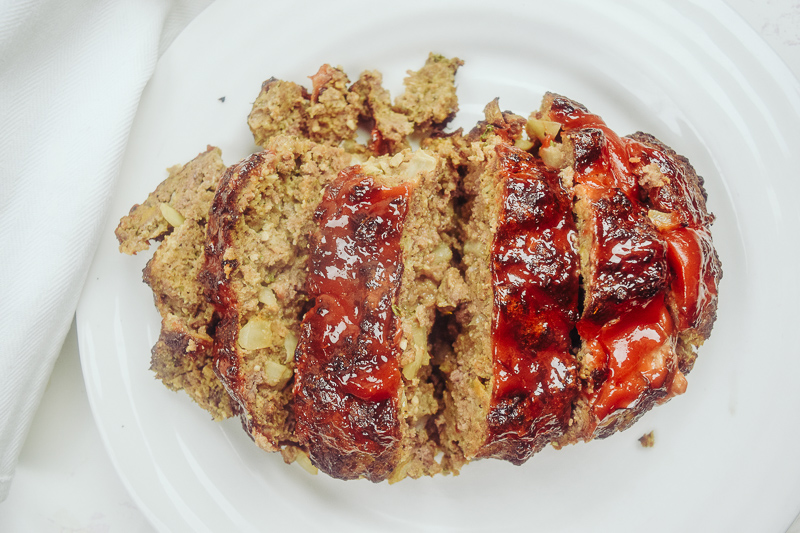 Do I need to use foil or parchment?
No, there is no need to use foil or parchment when making meatloaf in your air fryer. I have found it is better to actually skip those items because a good amount of grease drips down from the meatloaf and you don't want it to pool at the bottom of the meatloaf. Instead, let it drip down underneath and carefully lift it out with a spatula.
Can I make a 2 pound meatloaf?
Yes, you can double this recipe, as long as you have room in your air fryer. As you can see in the picture below in the recipe card, I could easily fit a 2 pound meatloaf in my air fryer. I wrote and tested this recipe with a 1 pound meatloaf to accommodate readers who have a smaller air fryer.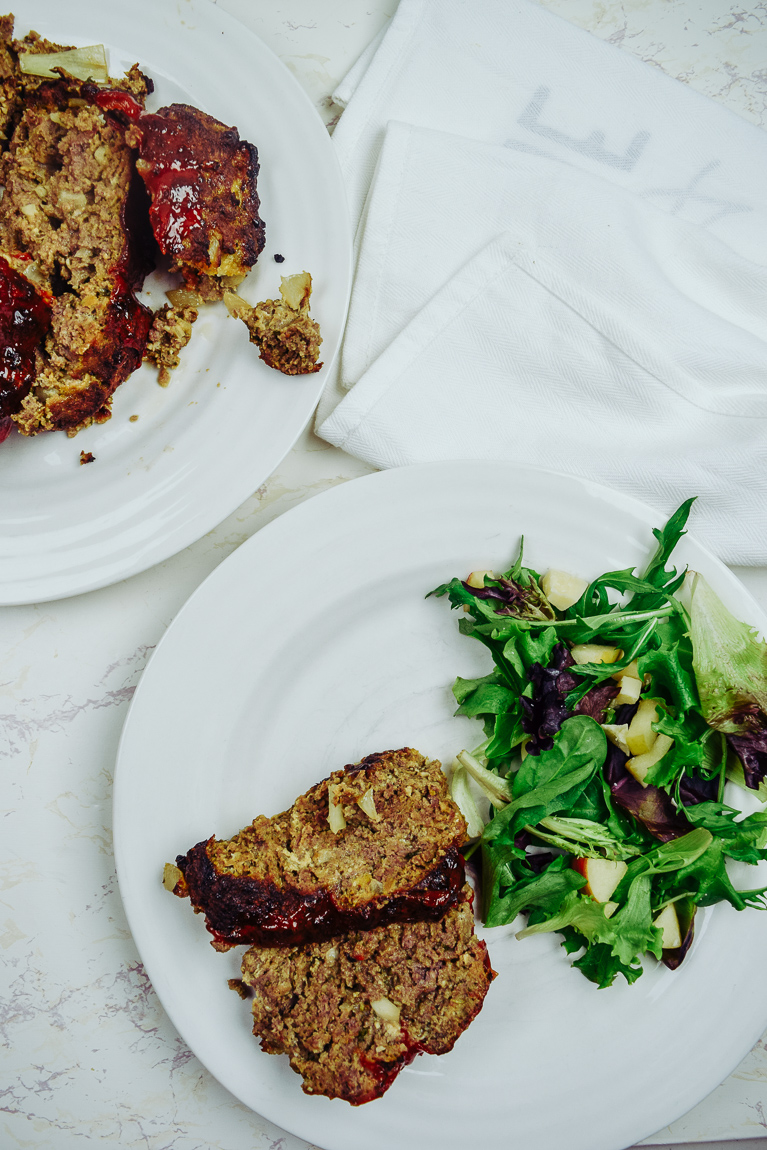 To double this recipe, increase your cook time to 40-45 minutes and check your meatloaf with a meat thermometer to ensure it has cooked all the way through. It should be 160°F.
What to serve with air fryer meatloaf?
We love serving meatloaf with carrots, broccoli, or Brussels sprouts. They are also amazing with garlic mashed potatoes or cauliflower mashed potatoes.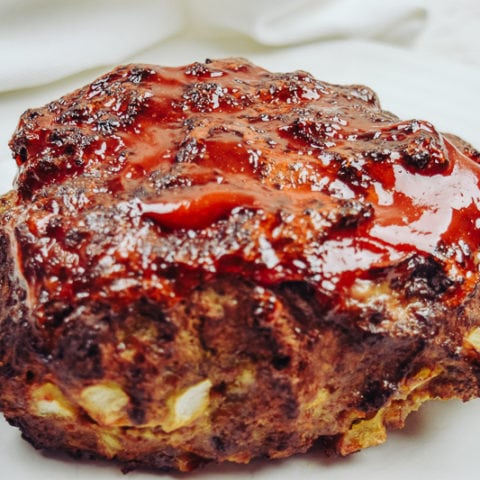 Air Fryer Meatloaf Recipe
Additional Time:
10 minutes
Air fryer meatloaf is juicy on the inside and crispy on the outside. Plus, making meatloaf in an air fryer is faster than the oven! You are going to love this classic meatloaf recipe in the air fryer.
Ingredients
1 pound ground beef
1/2 cup ketchup, divided
1/2 cup breadcrumbs
1/4 cup diced yellow onion
1/4 cup milk
2 large eggs
2 garlic cloves, minced
2 tablespoons Worcestershire sauce
1 tablespoon Italian seasoning
1 teaspoon salt
1/2 teaspoon black pepper
Instructions
Preheat air fryer to 330°F.
Combine all ingredients except 1/4 cup ketchup in a large bowl.
Mix well until fully combined.
Form into a loaf and place into preheated air fryer.
Set air fryer to 30 minutes at 330°F.
Brush remaining 1/4 cup ketchup on top of meatloaf during the last 5 minutes of cooking.
Remove meatloaf from air fryer and let rest for 10 minutes.
Slice and serve.
Notes
Cooked meatloaf may be refrigerated up to 3 days and frozen up to 3 months.
Recommended Products
As an Amazon Associate and member of other affiliate programs, I earn from qualifying purchases.
Nutrition Information
Yield

4
Serving Size

1 slice
Amount Per Serving
Calories

400
Total Fat

23g
Saturated Fat

8g
Trans Fat

1g
Unsaturated Fat

11g
Cholesterol

195mg
Sodium

1032mg
Carbohydrates

13g
Net Carbohydrates

0g
Fiber

1g
Sugar

8g
Sugar Alcohols

0g
Protein

35g
Nutrition information is an estimate.
Save this recipe for later on Pinterest.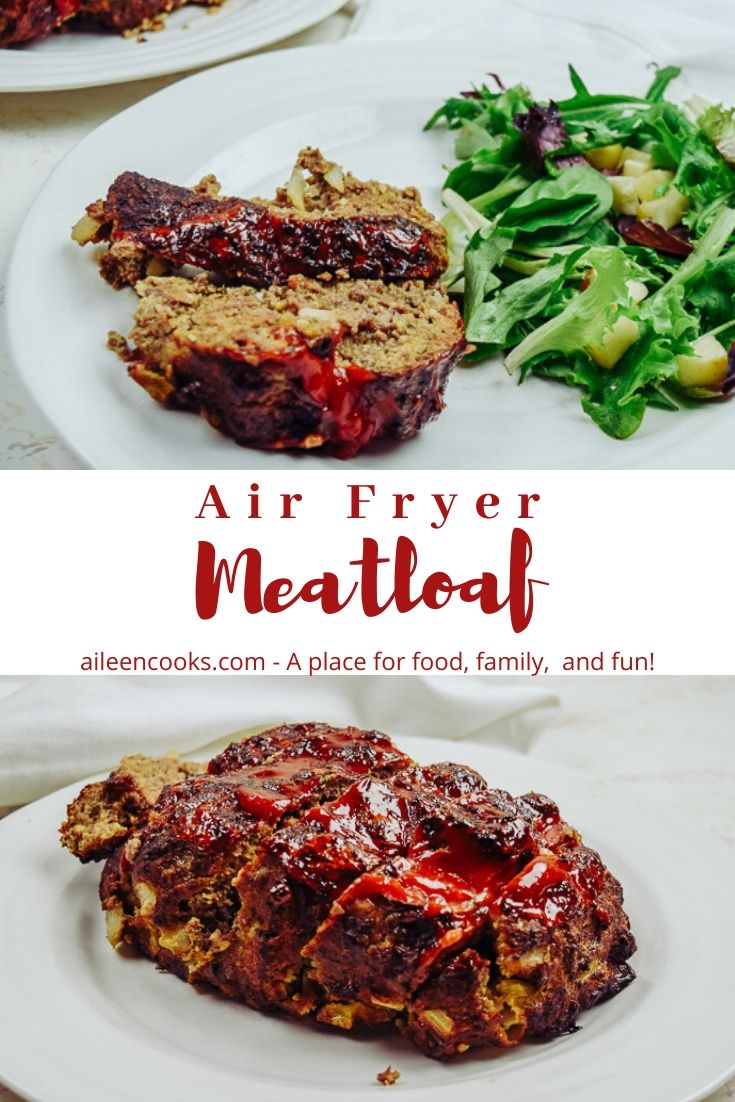 Did you try this recipe for air fryer meatloaf? Let us know what you thought with a rating and review (above).