Kid Friendly Chicken Noodle Soup
Make this kid-friendly chicken noodle soup recipe with your kids tonight and let them try out their basic knife skills (butter knives will work). Then check out our full list of cooking recipes for kids.
I didn't plan on sharing this recipe for kid-friendly chicken noodle soup with you as a Cooking With Kids post, or at all. I already have a slow cooker chicken noodle soup recipe and an Instant Pot Chicken Noodle Soup on my site – which are both delicious. This recipe is just more fun with the big chunky veggies and colorful pasta. If you are looking for a creamier soup, try our recipe for instant pot chicken and dumplings.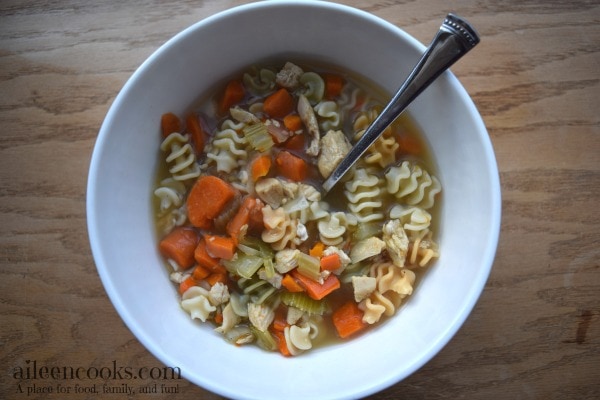 The Story Behind this Kid-Friendly Chicken Noodle Soup Recipe
This recipe came about when I was brainstorming dinner ideas with my son on the way to Trader Joe's (I know, I broke my own rule). He suggested we make soup with pasta (aka, chicken noodle soup). As soon as I agreed, he asked if he could help. Of course, I said yes!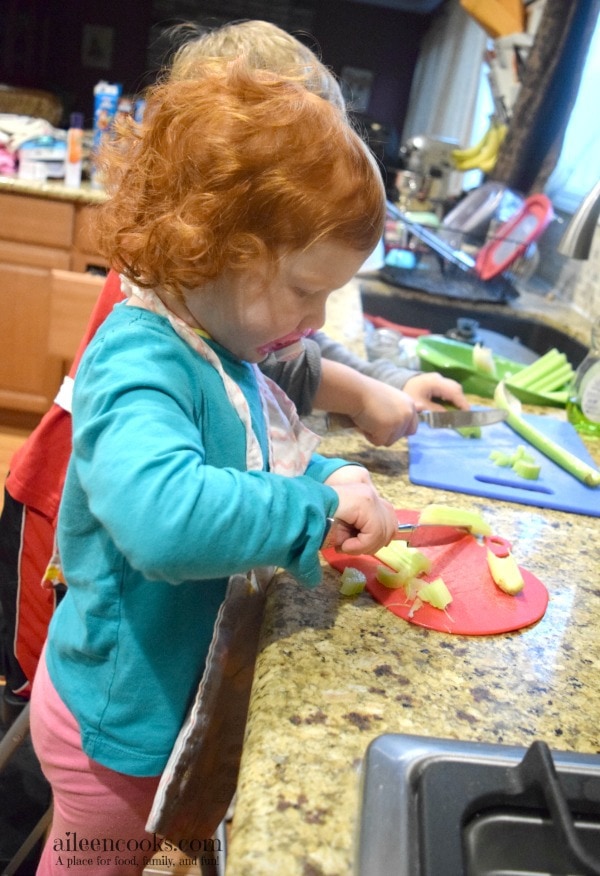 Having him help in the kitchen always sounds great when we're not actually in the kitchen. I love the idea of having him help and it is important to me. I want my kids to grown up with the ability to cook themselves a variety of dishes without always having to depend on fast food and boxed dinners. I'm also hoping they will take over some of the meal cooking responsibilities at some point. A mom can dream, can't she?
The reality is, I have another child who wants to help. There is no way I can get away with letting William cook and not letting Katie cook. They both want to be in the kitchen with me helping. The problem is, Katie is 2. My ability to reason with her and encourage her to not touch the sharp knife (or hot appliance) are limited. She really needs all of my attention, but that's not fair to her brother.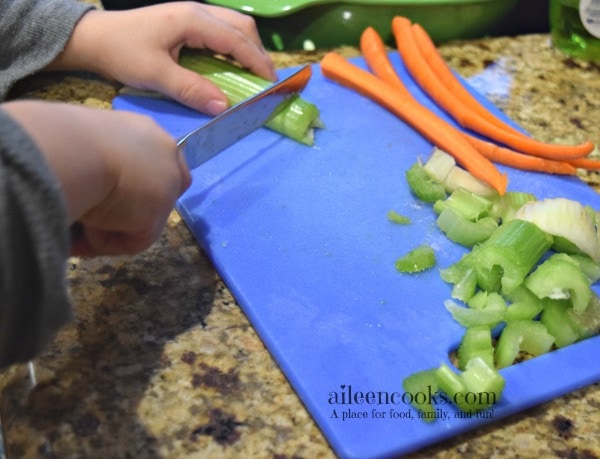 I pressed on and we made soup together. There were some tears. I had to remove Katie from the kitchen at one point because she was grabbing my hand while I was chopping carrots. That seamed to help her understand she needs to listen and she came back in the kitchen eager to help and follow directions. Hallelujah!
Knife Skills while Making Kid-Friendly Chicken Noodle Soup
I set each kid up with a cutting station: step stool, cutting board, and butter knife. They were assigned to chopping celery. I took care of the carrots, onion, and garlic.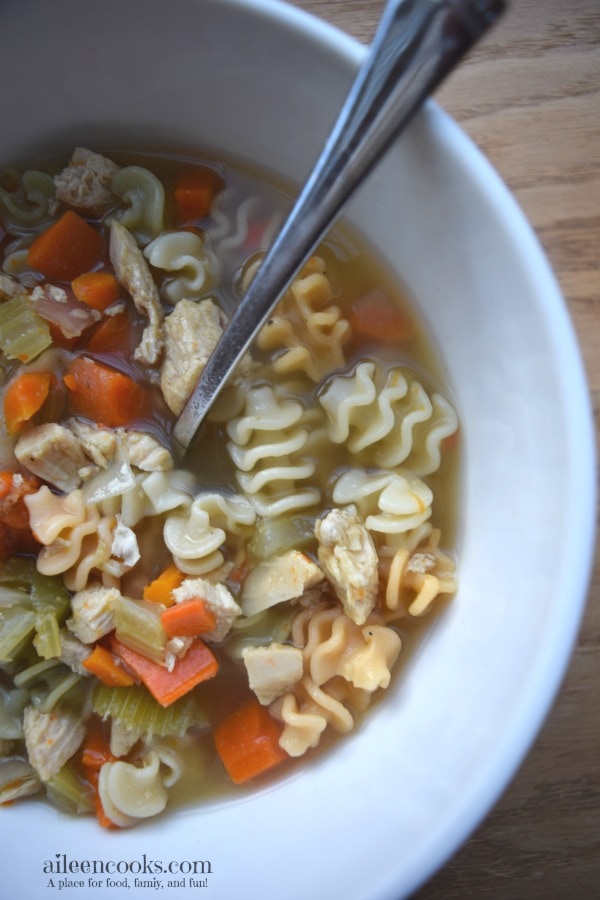 Once the veggies were ready, we added everything to the pot. We practiced counting while measuring out the chicken broth and water. Then, I had William add in the spices and bay leaf.
After about 30 minutes, we pulled out the chicken, chopped it up, and added it back to the soup along with the pasta. I also had to add another cup of water as some of the liquid had absorbed.
Overall, it was a fun experience. I am constantly learning how to manage my two in the kitchen and be patient with them. It's ongoing, but I am glad that I said "yes" and we spent that time together making a new meal.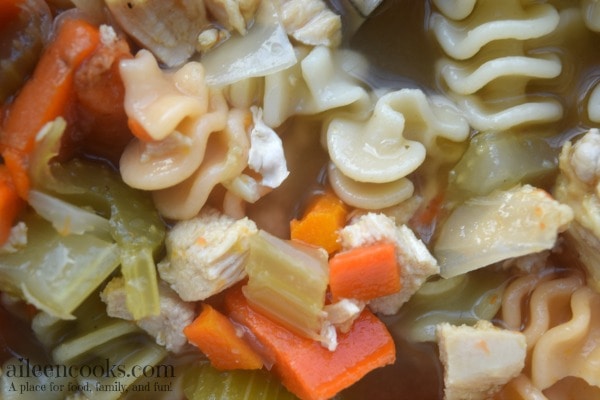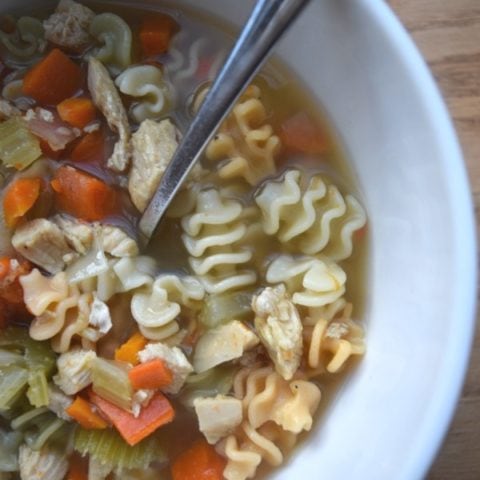 Cooking With Kids: Colorful Chicken Noodle Soup
Fun and colorful chicken noodle soup, perfect for kids to make and eat!
Ingredients
6 cups chicken broth
2 cups water
1 boneless, skinless chicken breast
4 carrots, chopped
4 celery stalks, chopped
1 cup chopped yellow onion
2 garlic cloves, minced
1 bay leaf
1 teaspoon salt
1/2 teaspoon dried oregano
1/2 teaspoon dried parsley
1/4 teaspoon black pepper
1 cup vegetable radiatore pasta
Instructions
Add all ingredients, except the pasta to a large pot.
Bring to a boil, then cover and simmer for 30 minutes.
Remove the chicken breast and bay leaf.
Chop up the chicken into bite sized pieces and add back into the soup.
Bring soup back to a boil and mix in the radiatore pasta (add more water, if needed).
Cook for another 8-10 minutes and serve.
Nutrition Information
Amount Per Serving
Calories

482
What do you like to cook with your kids?
Related posts: