Best Instant Pot Zuppa Toscana (Olive Garden Copycat)
As an Amazon Associate I earn from qualifying purchases.
This instant pot Zuppa Toscana recipe makes a large batch that tastes wonderful the next day. It's filled with hot Italian sausage, kale, hearty potatoes, garlic, and onion.
Make your favorite Olive Garden soup at home with this Instant Pot Zuppa Toscana recipe! We love making this hearty instant pot soup recipe for those really cold nights!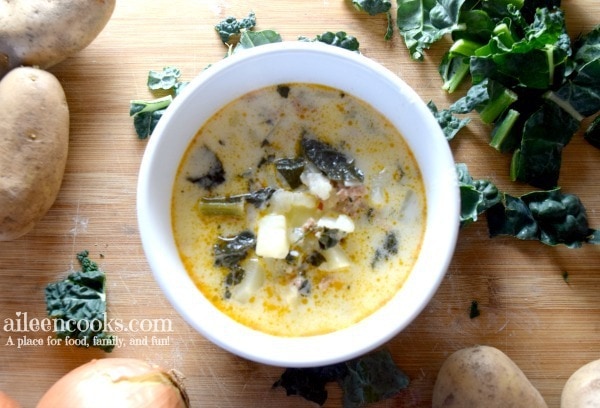 New to the instant pot? Check out our instant pot guide here.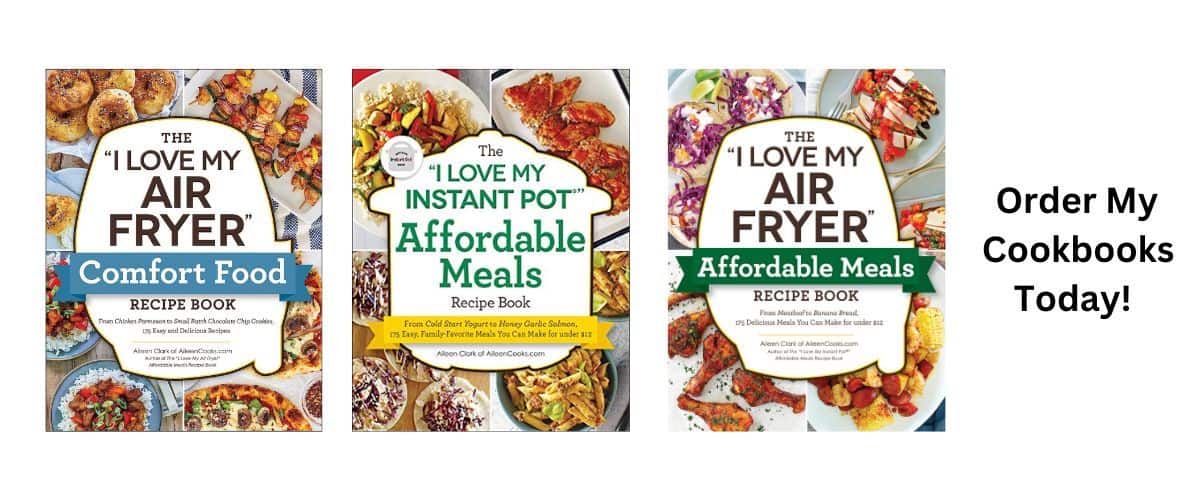 Instant Pot Zuppa Toscana (Olive Garden Copycat)
I first tried Zuppa Toscana at Olive Garden – which is where most of us have probably tried it. I was out running errands with my son after his gymnastics class one day. We stopped to pick up some winter clothes for him and his sisters.
He was so sweet and patient while I shopped. We were probably in there for over an hour and he was on his best behavior. As we left, he told me he wanted to walk to a restaurant and eat.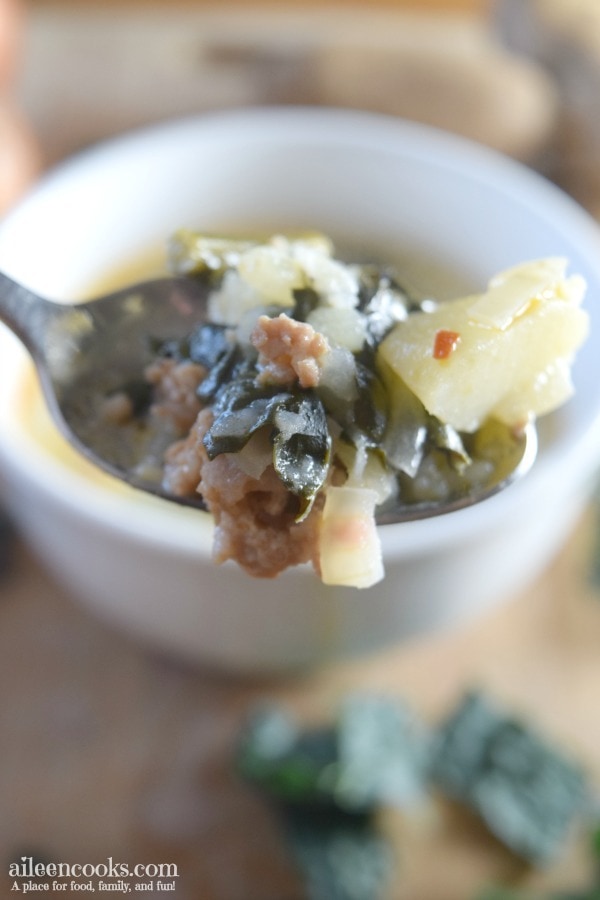 Join our Instant Pot recipe group on Facebook
I didn't really know what to think of his request but figured I would try to humor him. I look around and there it is. Olive Garden. Perfect. We had been to Olive Garden many times, but not normally at lunch. I knew I didn't want to eat a huge plate of pasta (Baked Ziti is my normal go-to), so I opted for soup and salad (and breadsticks).
I had heard some many rave reviews of Olive Garden's Zuppa Toscana soup – I knew I had to try it. It was so delicious! I was completely hooked, I even asked for a second bowl (so much for eating light). As soon as my taste buds came in contact with this amazing soup, I knew I needed to recreate it at home for my family as an instant pot soup recipe.
You may also like: Instant Pot Butternut Squash Soup or Instant Pot Chicken and Dumplings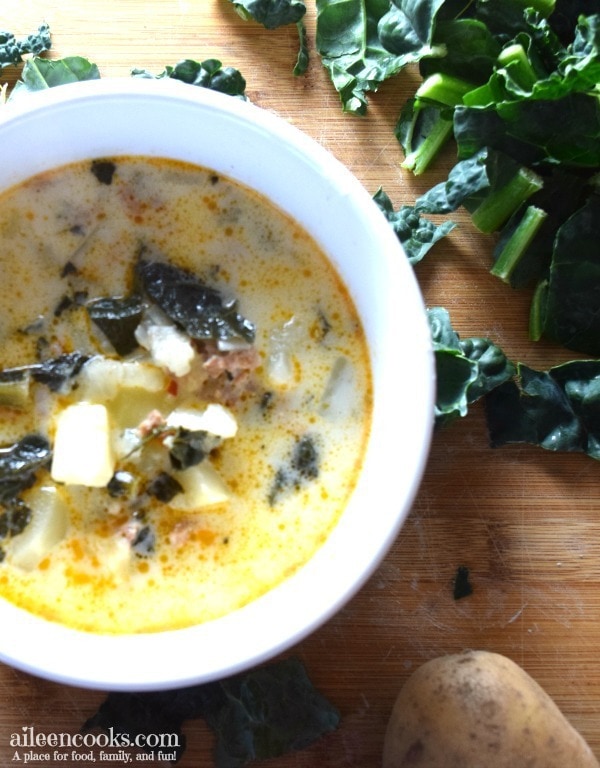 How to make instant pot Zuppa toscana
Start by sautéing Italian sausage in your instant pot with a little bit of olive oil. This helps deepen the flavor of the sausage.
Pour in a mixture of chicken broth and water, scraping off the bits of sausage stuck to the bottom of the pot. This is where a lot of tasty flavor is hidden!
Cook the instant pot Zuppa Toscana for just 10 minutes!
Quick release the pressure, whisk in some heavy cream, and serve!
See how easy that is? This yummy and hearty soup is easy enough to make as a weeknight dinner and the leftovers are AMAZING.
Can you freeze Zuppa Toscana soup?
Yes, Zuppa Toscana is very freezer friendly. Make sure it is fully cooled and then ladle into a freezer safe container. Label and date the container and freeze up to 3 months. For more tips, read our post on how to freeze soup.
How long is Zuppa Toscana good for?
Homemade soup will last in the fridge for 3-4 days. If you plan to use it any later than that, you will want to freeze the soup.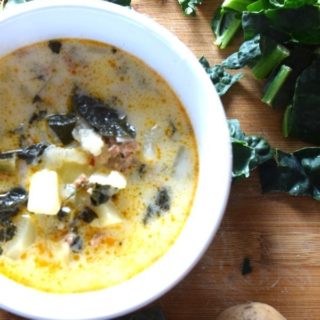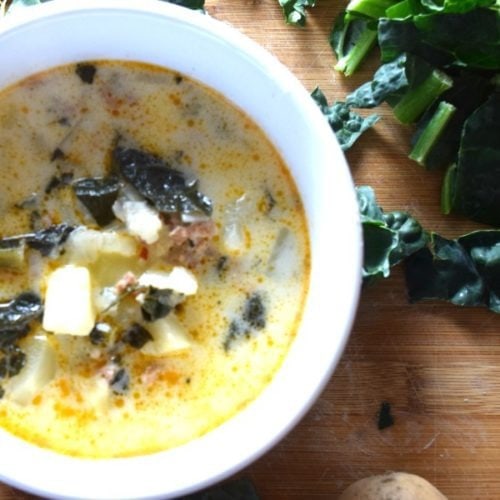 Instant Pot Zuppa Toscana Soup
Make this delicious and hearty instant pot zuppa toscana soup at home! This recipe makes a large batch that tastes wonderful the next day. It's filled with hot Italian sausage, kale, hearty potatoes, garlic, and onion.
Ingredients
Instructions
Set instant pot to saute. Heat olive oil and add Italian sausage.

Cook sausage until brown, breaking it up into pieces as it cooks.

Pour in chicken broth and water. Scrape any bits off the bottom of the pot with a wooden spoon.

Add in potatoes, onion, kale, garlic, salt and pepper.

Gently stir.

Close lid and set to sealing.

Set Instant Pot to soup. (10 minutes on high pressure)

Quick Pressure Release. Remove lid.

While soup is still hot, whisk in heavy cream and flour until combined.

Serve.
Notes
Slow Cooker Instructions
Heat olive oil in a medium pan of medium-high heat.
Cook Italian Sausage until brown and broken into small pieces. Remove from heat.
Combine browned Italian sausage, potatoes, kale, onion, garlic, salt, and pepper in slow cooker.
Pour chicken broth and 3 cups water over the top (the remaining cup can be discarded).
Close lid and cook on low for 6 hours.
Whisk in the cream and flour until the flour is fully combined.
Serve.
Nutrition
Serving:
1
g
Calories:
473
kcal
Carbohydrates:
38
g
Protein:
17
g
Fat:
29
g
Saturated Fat:
13
g
Polyunsaturated Fat:
17
g
Cholesterol:
68
mg
Sodium:
1062
mg
Fiber:
5
g
Sugar:
5
g
More Instant Pot Soup Recipes:
More Slow Cooker Soup Recipes:
Save this recipe for later on Pinterest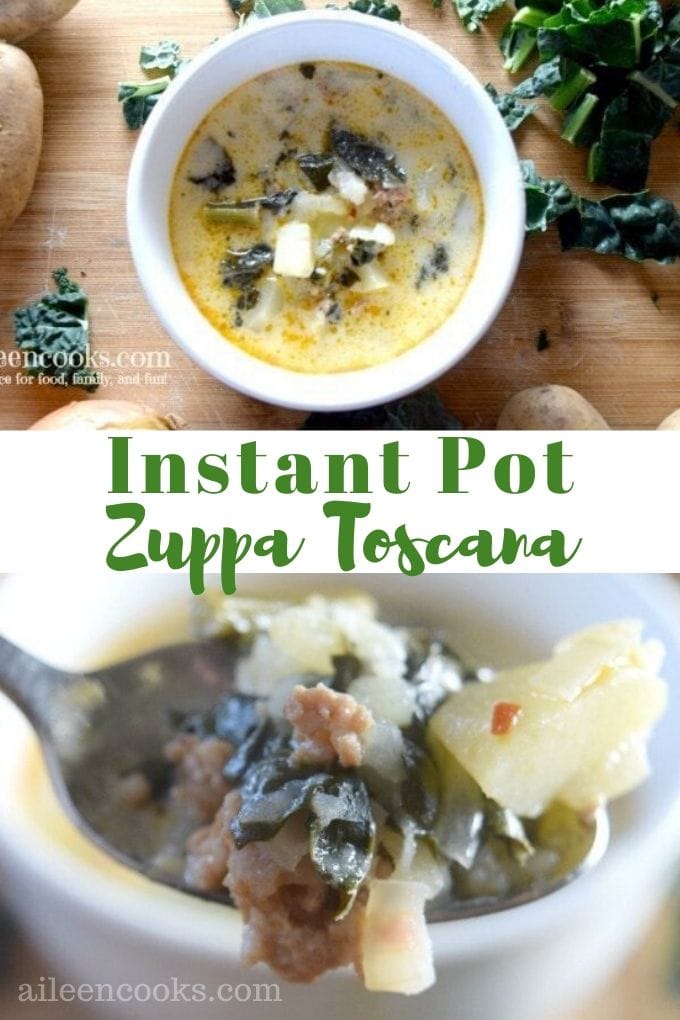 I love Olive Garden's Zuppa Toscana. This instant pot zuppa toscana recipe tastes just like the real thing! Did you try this recipe? Let us know what you thought with a rating and comment. You can also tag us in your recipe creations on social media using @ailencooks/