This slow cooker beef chili simmers in the crockpot all day and makes an incredibly flavorful chili with a tasty sauce that makes you want seconds (or thirds). I love cooking chili because it's a meal you can enjoy year round, it freezes well, and is totally family friendly. Thank you to S&W for sponsoring this post.
There are so many ways to serve chili – you can serve it over rice, hot dogs, or baked potatoes. You can serve it in a bowl with chips and cheese. Incorporating a few "fun" ways to eat the chili can really help kids consider trying it. My daughter loves chili and will happily eat it a couple of days in a row. My son isn't as excited about dinner in general, but he will totally eat it if we top it with lots of cheese.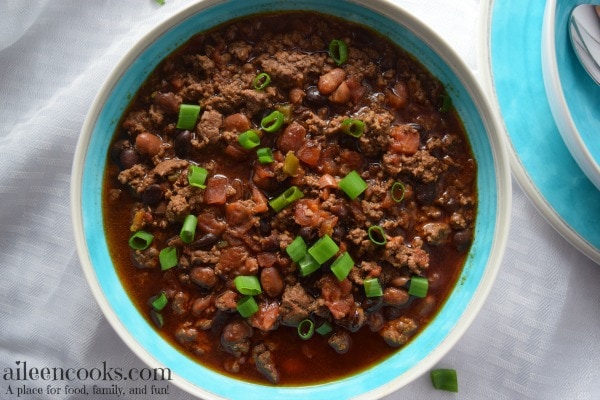 I had the opportunity to partner with S&W Beans to create this recipe. They sent me a box of all of their different beans. They have so many healthy and delicious options, including organic and low sodium varieties. They also have really high quality standards and have been around for 120 years.
After brainstorming recipe ideas, I decided to use the S&W Chili Beans and S&W Black Chili Beans to make this delicious slow cooker beef chili. I love that the beans already had spices added in, making this savory dish that much better.
You may also like: Crockpot Buffalo Chicken or Crockpot Goulash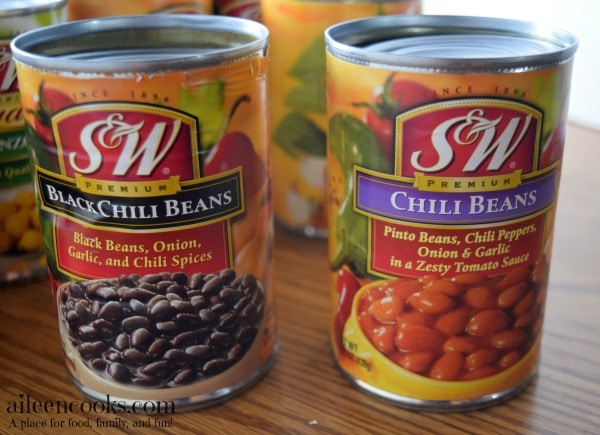 The beans added such a great flavor and texture to the chili. I love that they are a healthy protein, plus they look and taste great. If you are looking for a bean-free chili recipe, try our Easy No Bean Chili Recipe.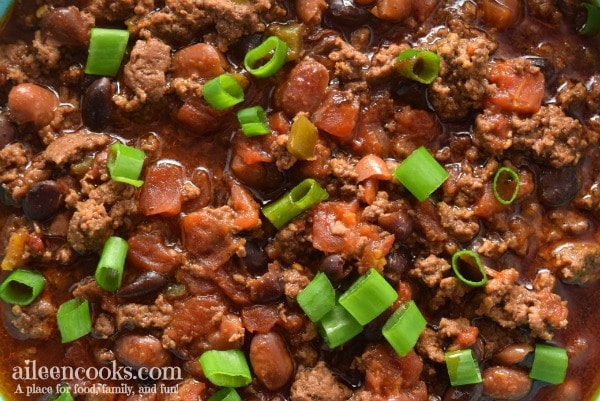 When it comes to making chili, the longer you cook it, the better. You want all of the ingredients to melt into each other. That's why cooking chili in the crockpot is perfect. Just spend 10 minutes on prep in the morning and you'll come home to a healthy and filling dinner.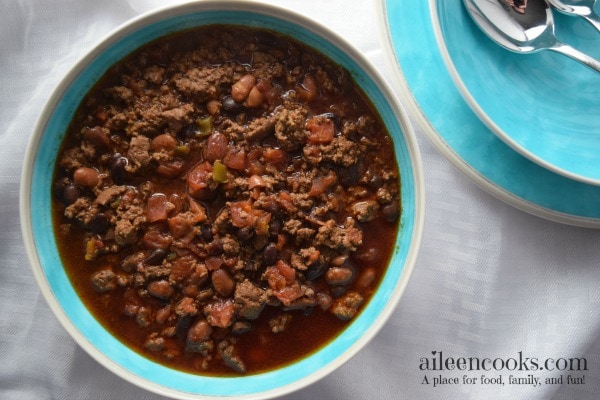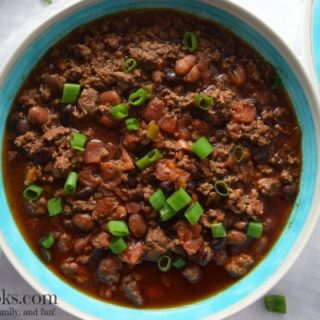 Slow Cooker Beef Chili
Total Time:
8 hours
10 minutes
Make this delicious beef chili in your crockpot!
Ingredients
2 pounds ground beef
1 tablespoon chili powder
1 teaspoon black pepper
1 teaspoon salt
1 teaspoon garlic powder
28 ounce can diced tomatoes with diced green chilies
15 ounce can S&W chili beans
15 ounce can S&W black chili beans
Optional: sliced green onions for garnish
Instructions
Brown ground beef in a large pan, adding seasoning 1/2 way through with the chili powder, black pepper, salt, and garlic powder.
Spray the bowl of a slow cooker with cooking spray.
Combined browned ground beef, tomatoes, and beans (undrained).
Cover and cook on low for 8-10 hours.
Nutrition Information
Amount Per Serving
Calories

364
Be sure to check out the
S&W website
for more healthy recipes and a
$1 off coupon
.
Related Posts: