Instant Pot Pillsbury Cinnamon Rolls
As an Amazon Associate I earn from qualifying purchases.
Make these sweet and tender Instant Pot Pillsbury Cinnamon Rolls today! They make the perfect sweet breakfast treat or awesome easy instant pot dessert.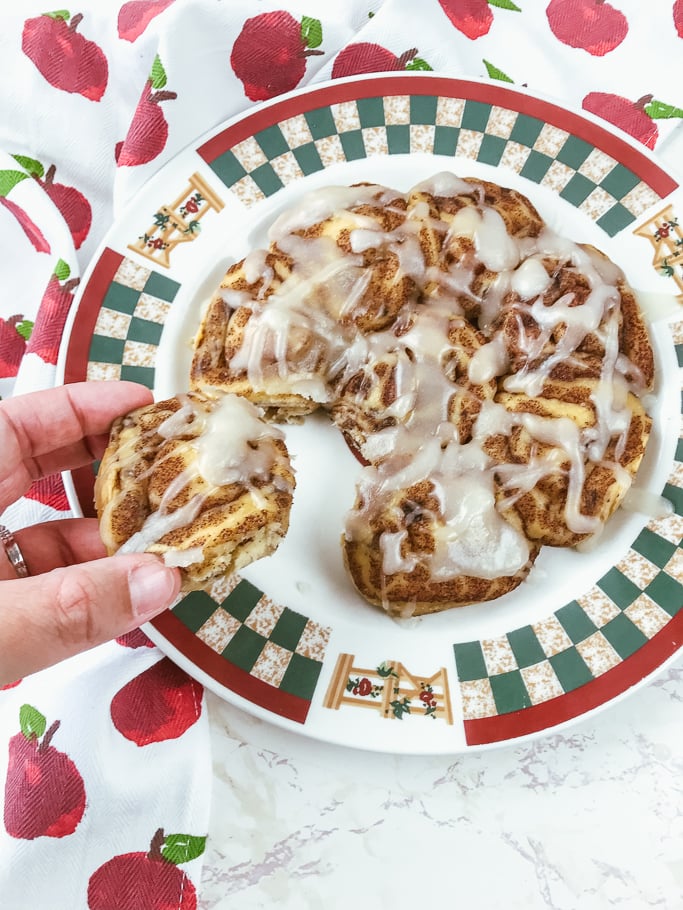 We love a good cinnamon roll around here. I shared this recipe for instant pot cinnamon rolls with cream cheese frosting from scratch a couple of years ago and it continues to be one of our most popular posts.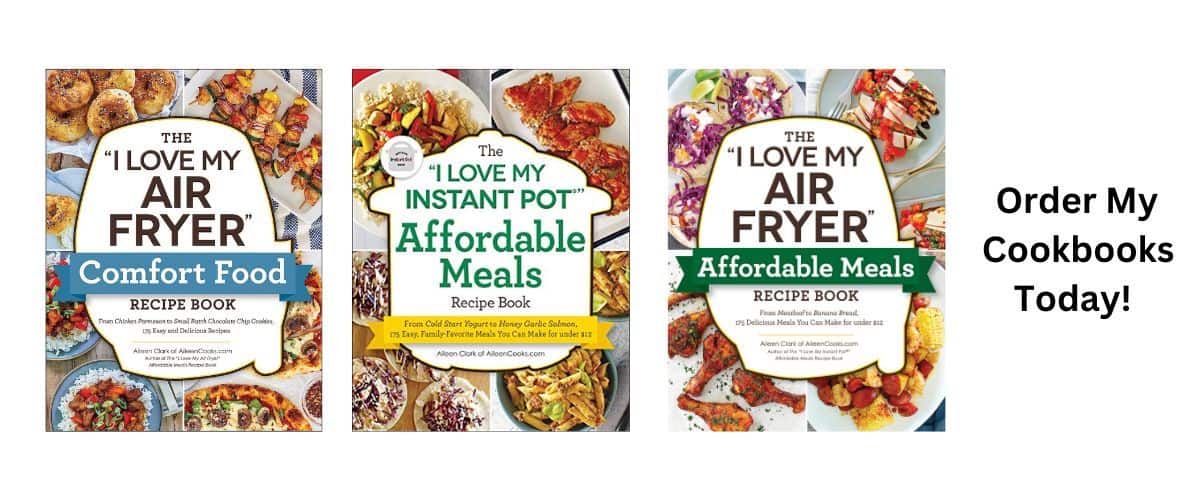 But sometimes, you just need to whip up a batch of sweet breakfast pastries quickly and easily. That's why we are sharing this recipe for pressure cooker Pillsbury cinnamon rolls today! We also recommend this recipe for instant pot monkey bread.
We combined two time-saving powerhouses to make this tasty treat: canned Pillsbury cinnamon rolls and the instant pot electric pressure cooker. They cook in just 13 minutes and don't heat up your house!
If you don't have an instant pot, we recommend our recipe for Crock Pot Cinnamon Roll Casserole or Air Fryer Cinnamon Rolls.
How to make Pillsbury cinnamon rolls in the instant pot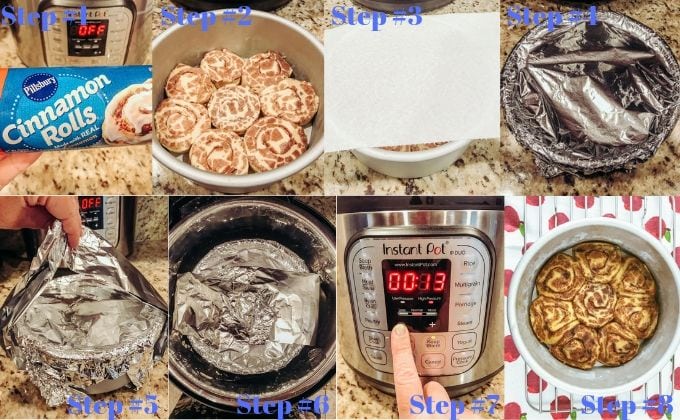 This recipe is insanely easy. I know I'm showing 8 steps in my step-by-step photo, but it really only takes about 5 minutes of prep time to make these yummy cinnamon rolls.
The most important step of making canned cinnamon rolls in your instant pot is making sure the top of the pan is sealed well. Don't skip the step of putting a paper towel and foil over the top of the pan. This keeps the moisture out so your cinnamon buns don't get soggy!
I also include the option of warming up the icing for 10 seconds in the microwave. This makes it easier to drizzle it over your cinnamon rolls. Otherwise, you will just need to spread the icing on the cinnamon rolls. Either way, you will end up with a gooey and delicious breakfast pastry.
Get The "I Love My Instant Pot" Affordable Meals Recipe Book here.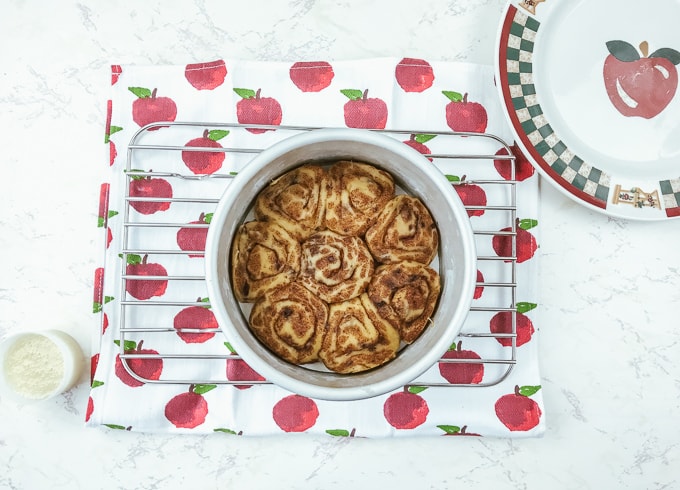 What pan to use for instant pot Pillsbury cinnamon rolls
You will need a push pan (also called a cheesecake pan) for this recipe. I recommend the Fat Daddio 7-inch by 3-inch cheesecake pan. It will fit in both the 6-quart and 8-quart instant pot models. If you are using an instant pot mini, you will need to use a smaller cake pan and cut the recipe in half.
You could also use a standard 7-inch cake pan for this recipe but will need to scoop the cinnamon buns out of the pan. Having the push function is very helpful for getting them all out at the same time without having to pull them apart.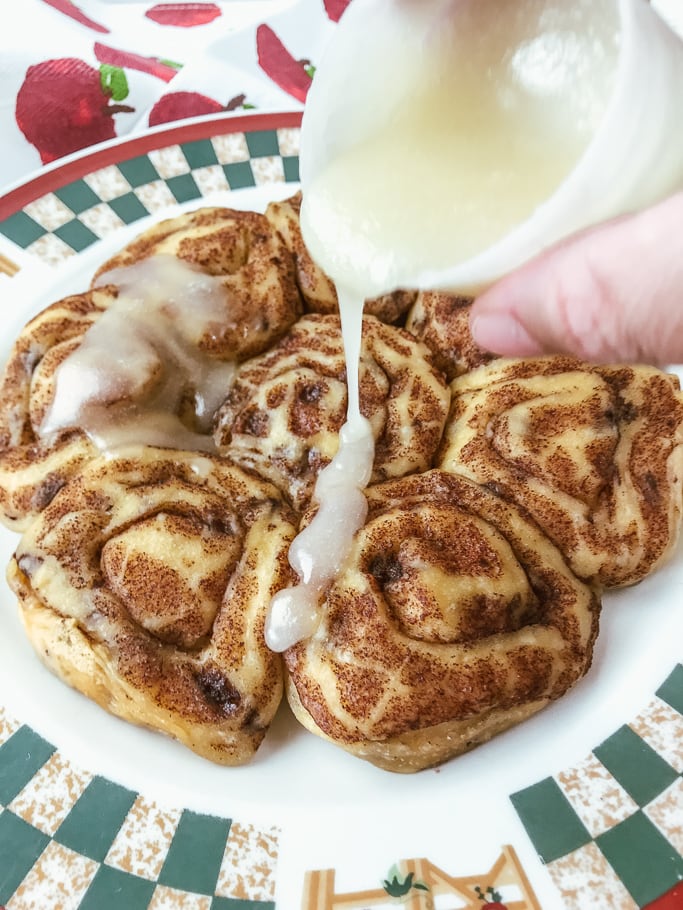 Do Pillsbury cinnamon rolls need to be refrigerated?
Yes. The uncooked roll of Pillsbury cinnamon rolls needs to be refrigerated. Once cooked, they can be stored at room temperature in an air-tight container.
How do you reheat cinnamon rolls with icing?
You can reheat cinnamon rolls in the microwave for 30-45 seconds. You can also reheat them in the oven 200 degrees for 15-20 minutes.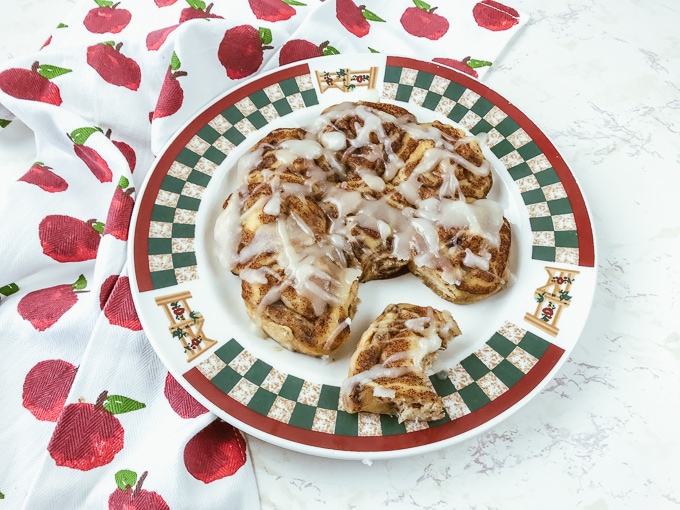 Join our Instant Pot Group on Facebook!
What pairs well with cinnamon rolls?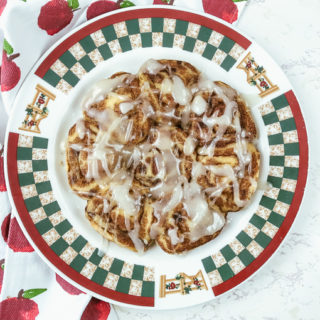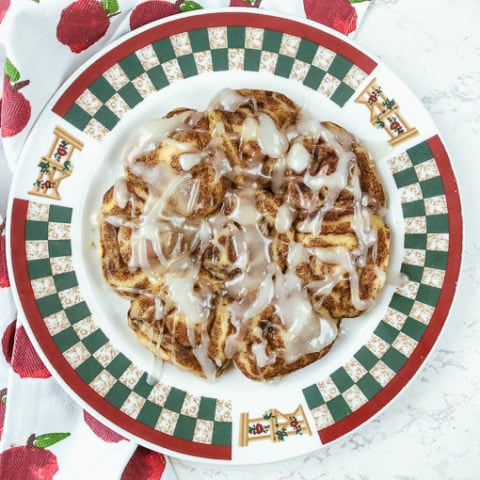 Instant Pot Pillsbury Cinnamon Rolls
Make these sweet and tender pillsbury cinnamon rolls in your instant pot!
Ingredients
1 1/2

cups

water

1

12.4-ounce container canned cinnamon rolls
Instructions
Place water and trivet inside instant pot.

Open canned cinnamon rolls according to package directions. Set icing aside.

Arrange cinnamon rolls in a single layer inside a (7-inch) push pan. You will need to squish them a bit to fit 7 in a circle and 1 in the center.

Cover push pan with a paper towel.

Top paper towel with foil and crimp tightly around the edges.

Create a foil sling by folding a 2 foot long piece of foil into thirds (lengthwise).

Place the pan in the center of the foil sling and carefully lower it into the instant pot and on top of the trivet.

Fold the edges of the foil sling over the top of the push pan.

Close the lid and set the pressure release valve to sealing.

Press the manual or pressure cook button and set to 13 minutes.

Quick pressure release.

Remove lid and take pan out using the foil sling.

Remove the foil and paper towel from on top of the push pan.

Let the cinnamon rolls cool slightly, about 10 minutes.

Remove the cinnamon rolls from the push pan by pushing up from the center and transferring to a plate.

Optional: warm up the icing in the microwave for 10 seconds. This will make it easier to drizzle on the cinnamon rolls.

Drizzle or spread the icing on the cinnamon rolls and enjoy.
Notes
We used Pillsbury brand cinnamon rolls for this recipe, but any brand may be used. Keep in mind, if you use the larger Grands-style cinnamon rolls, the cook time will need to be increased to about 23 minutes.
Nutrition
Serving:
1
cinnamon roll with icing
Calories:
140
kcal
Carbohydrates:
24
g
Protein:
2
g
Fat:
4.5
g
Saturated Fat:
2.5
g
Sodium:
340
mg
Fiber:
1
g
Sugar:
10
g
PIN THIS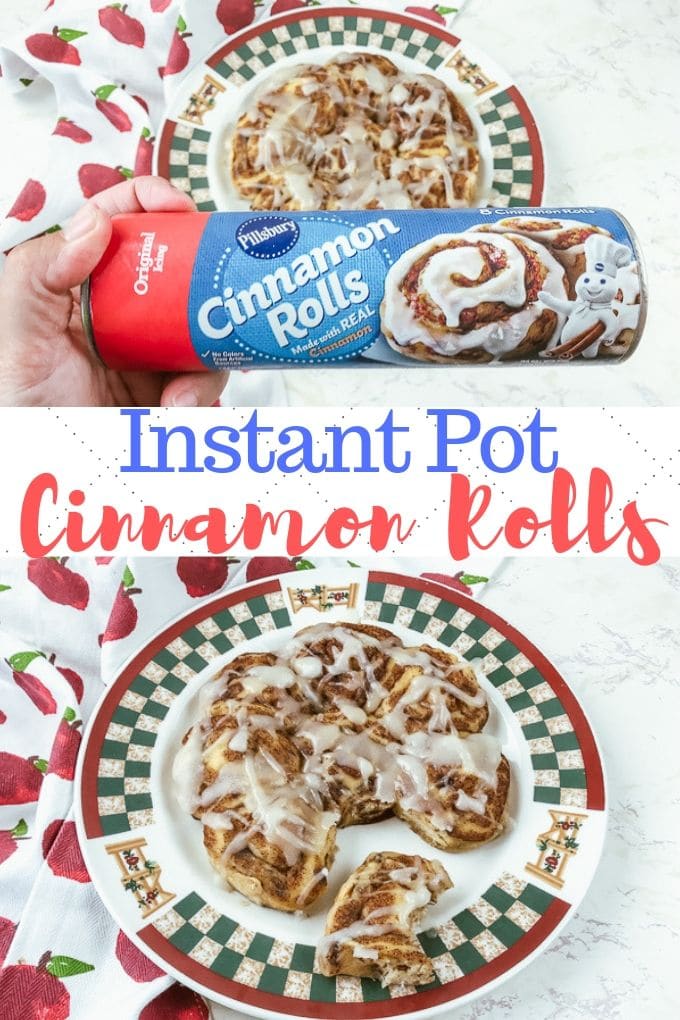 We love making instant pot Pillsbury cinnamon rolls for a quick and easy sweet treat. Let us know what you thought of this recipe with a rating or comment! You can also tag us in your cinnamon rolls photos using @aileencooks.