Places, Please Theatre Box
Does your child want to grow up to be an actor? Are they regularly acting out scenes and playing make-believe? Have your kids been asking for acting lessons? Places, Please! may be just the right subscription box for your child! Thank you to Places, Please! for sending us samples boxes to facilitate this review.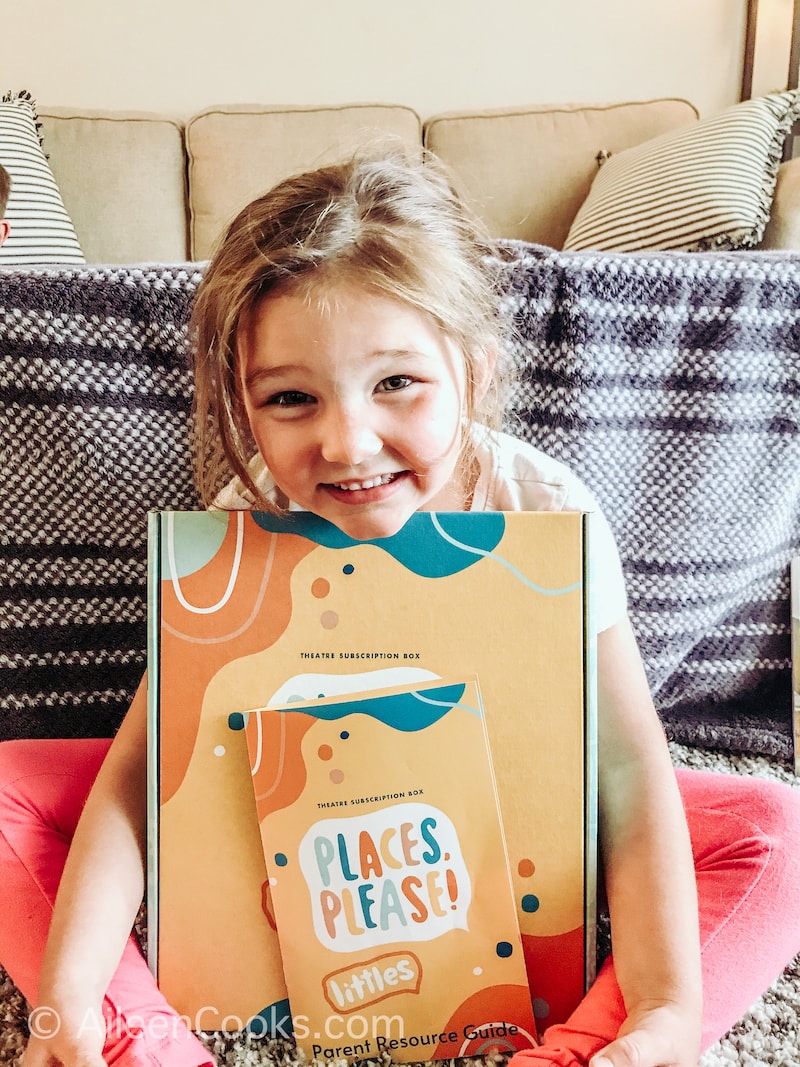 Welcome back to another week of Subscription Box Sunday! Every week, we review a different subscription box for you to help you decide which box will be best for your family! Make sure to follow us on Instagram and subscribe to our newsletter so you never miss a week of Subscription Box Sunday.
PAST SUBSCRIPTION BOX SUNDAY POSTS: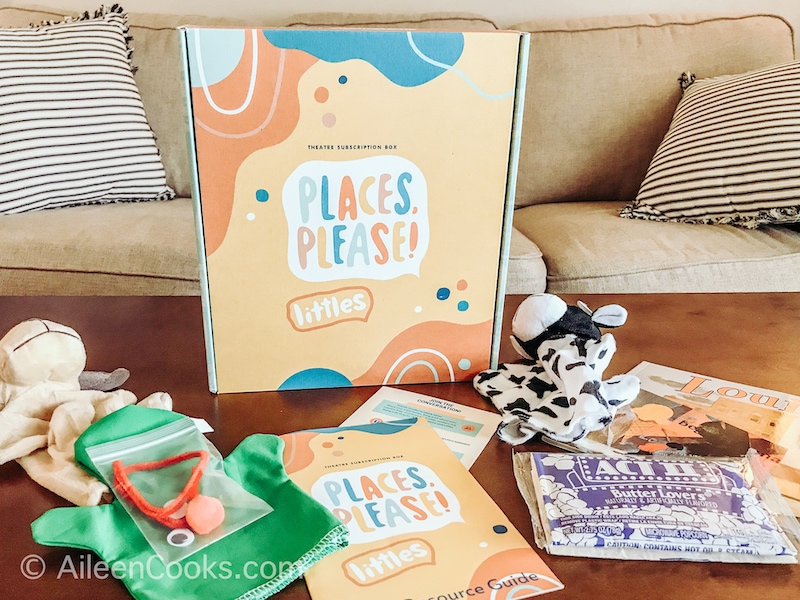 About Places, Please!
Places, Please! is run and curated by Lisa. She has 25 years experience as a drama teacher and wanted to spread her love for theater to more children. She believes participating in theater can benefit and transfer kids.
Her goal with these boxes is to bring the experience of theater to kids who may not have the opportunity in their schools and to homeschool families. Check out the post Why Theatre? to learn more about the benefits of theatre for kids.
Learn more about Places, Please!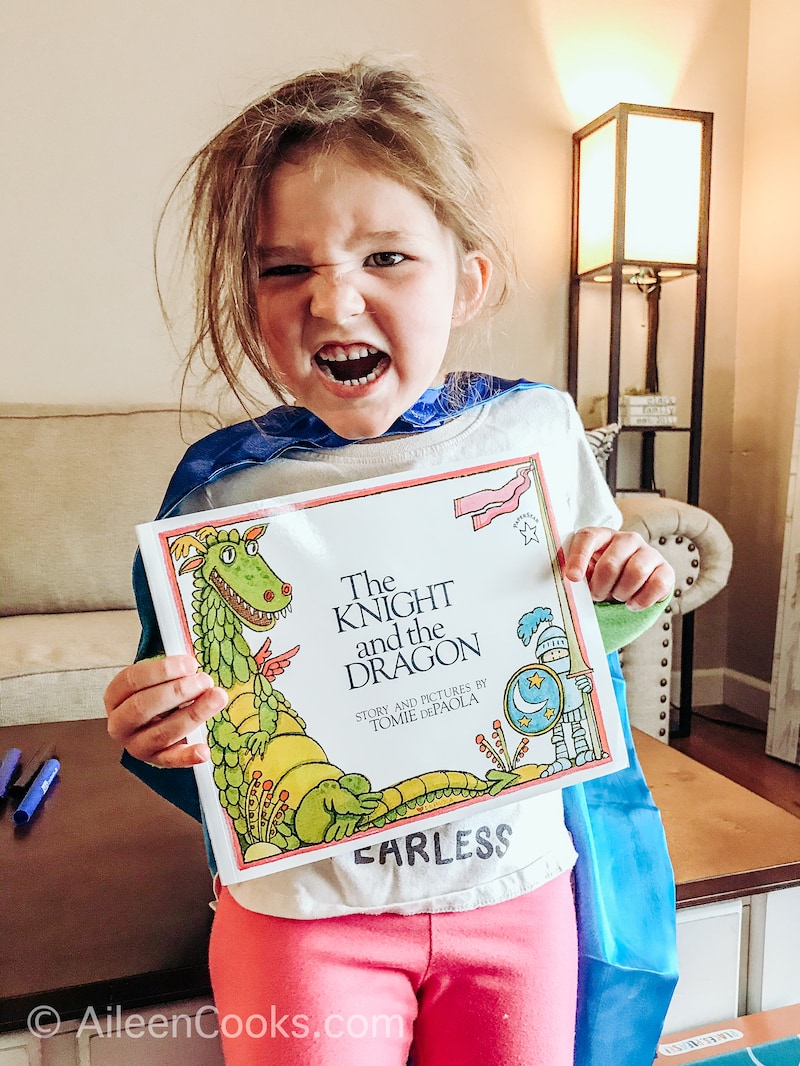 At-Home Acting Lessons for Kids
Places, Please! is a subscription box focused on all-things theater. They offer two levels of boxes. Their original, Places, Please! box is curated to teach acting step-by-step. The box includes scripts, a few costumes and props, plus detailed acting lessons. The Places, Please! box is for kids ages 9-14.
The Places, Please Littles Box is an imagination play box with costumes & props curated from a storybook plus a parent resource card for guided play. It's geared for kids ages 3-8. Since my kiddos are in the younger age range (4, 6, and 8 at the time of this post), we will be focusing on the Littles Box in this post.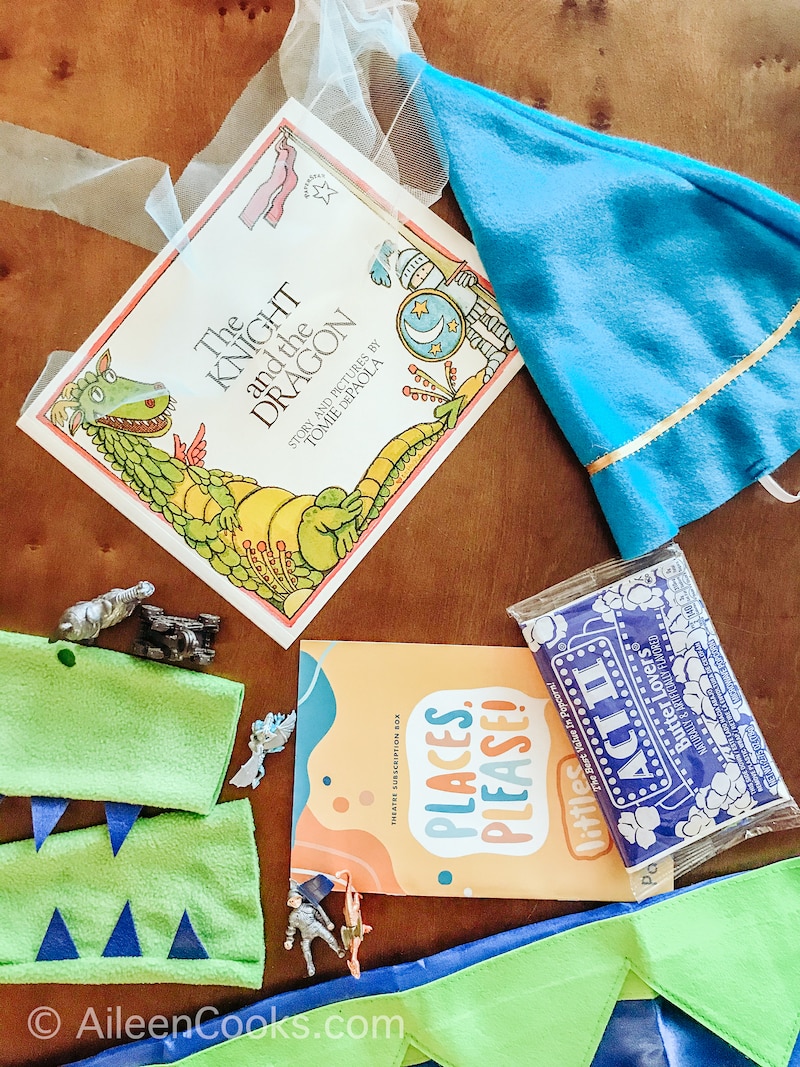 Places, Please Littles Box Review
Places, Please! Littles boxes come with a children's book, props or costumes, a pamphlet for the grown-ups, and popcorn to enjoy during the show!
The Littles Box is focused on expanding the imagination of little kids through a story and acting. You start by reading the featured story. Next, you do the warm-ups and tongue twisters including in the parent resource card, finally, you discuss story lines with your kids and let them get to acting out the story! They can choose to have you read the story while they act it out, act out their favorite part, or come up with their own play!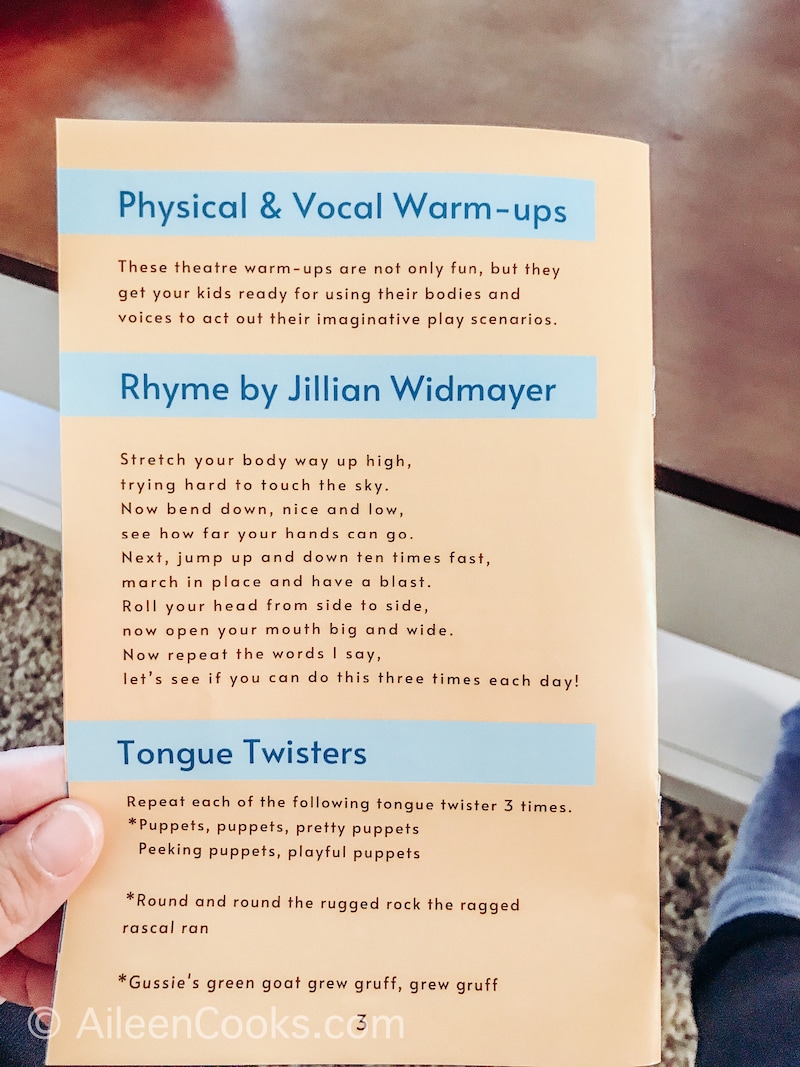 Lisa at Places, Please! actually sent us two boxes for us to review and share with all of you. One of her boxes, Louie, includes a story about a puppet show. In this box, she includes a couple of hand puppets, along with everything you need to build your own puppet. Kids are encouraged to make up their own puppet show after reading the book.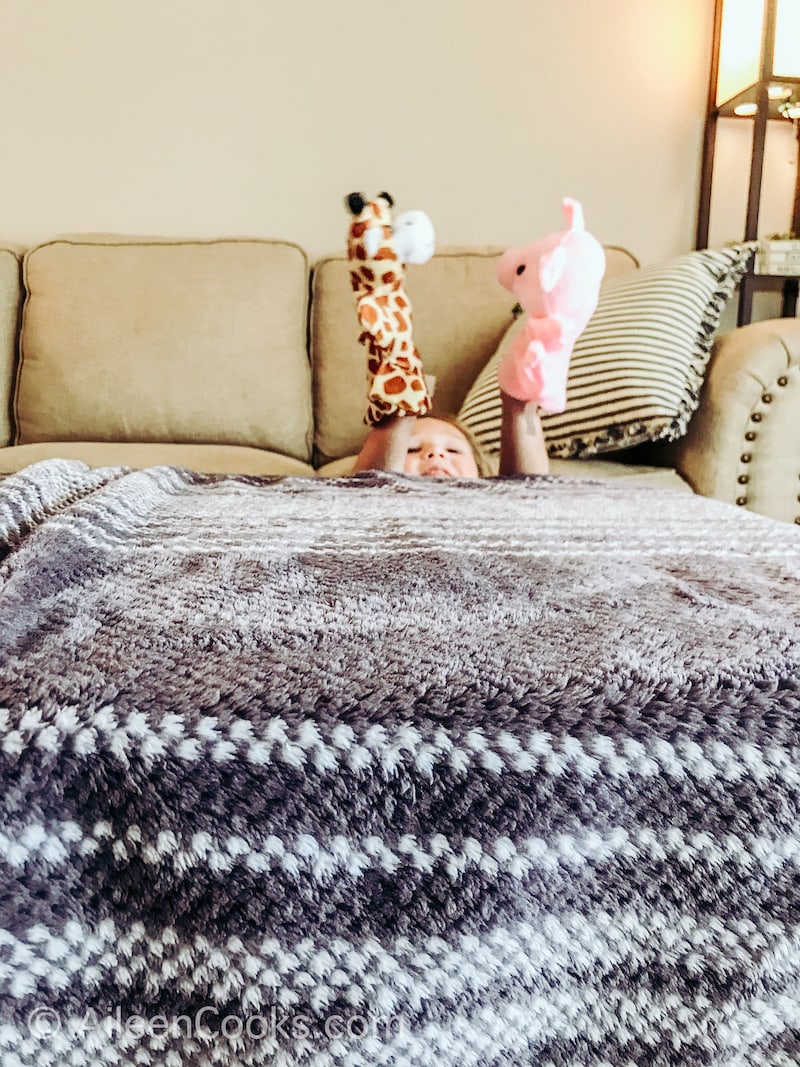 This was a huge hit with all three of my kids! You can even see a sneak peek of their puppet show if you head over to my Instagram Page and look at the Subscription Box highlight.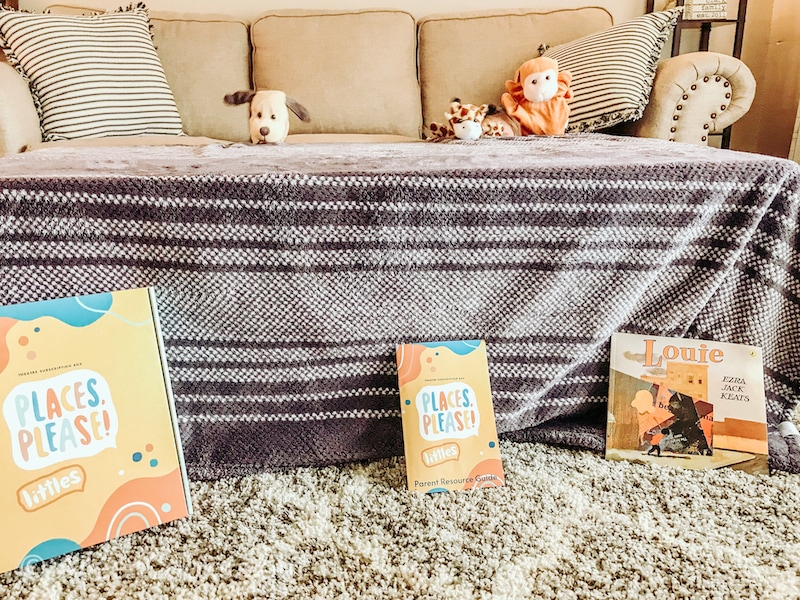 Inside the parent resource card, are discussion questions you can use with your kids, along with tips on putting on a puppet show – like putting a blanket over a table and that puppeteers usually wear all black.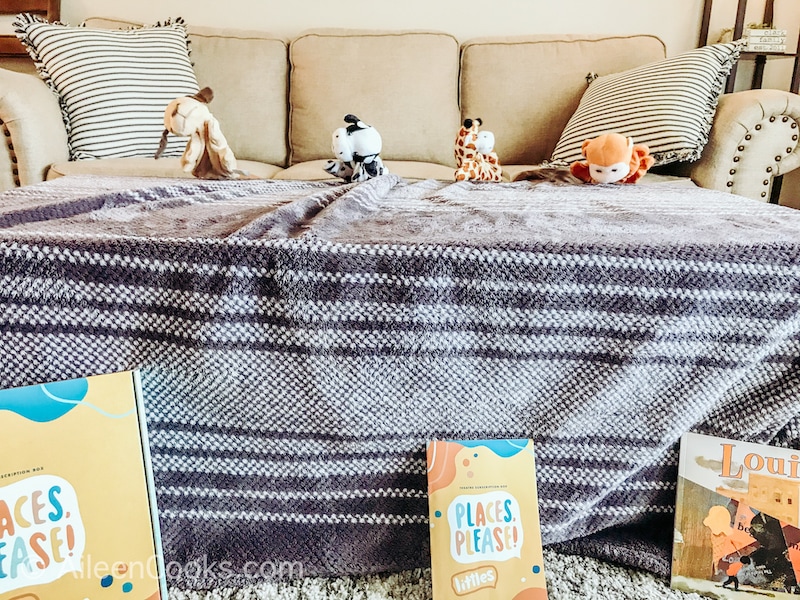 Sign up for Places, Please!
Theatre Subscription Box for Kids
The other box we received was The Knight and The Dragon. Oh my goodness, this was such a fun story with an incredible surprise ending! All three of my kids were captivated with this story and could not wait to act out the scenes and make up their own stories.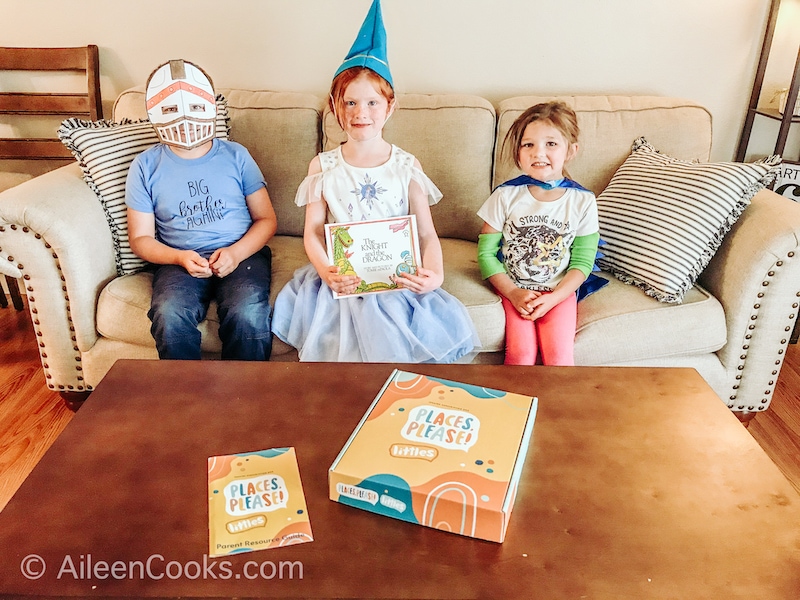 Before starting, we did the warm-up exercises and tongue twisters. This was really fun for my kids and a great way to start introducing them to some of the things actors do to prepare for a performance.
They spent a lot of time acting out the story, discussing how they would change the story, and pretending some more!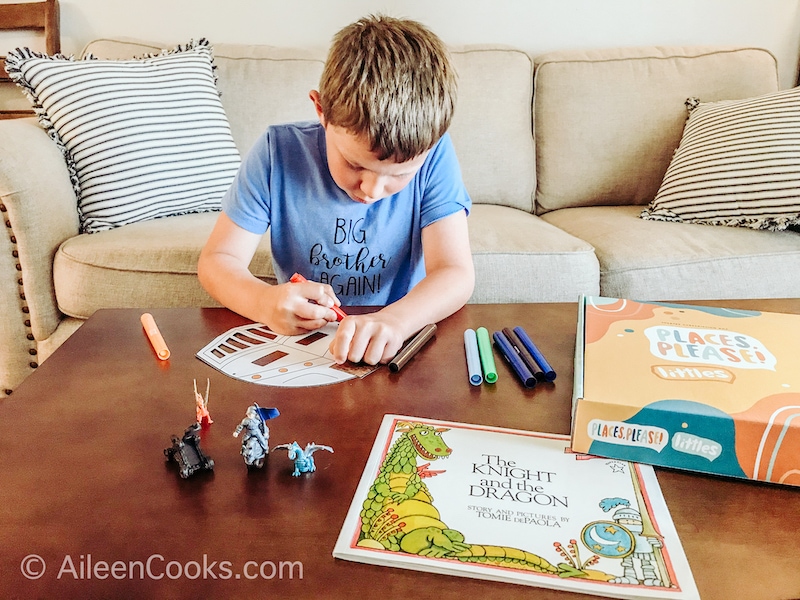 Places, Please! boxes are so very creative. I love that they sparked imagination within my three kiddos and encouraged them to play together and pretend together.
These boxes are thoughtfully curated and such a fun change from the other subscription boxes out there. They would make a wonderful gift or addition to your homeschool.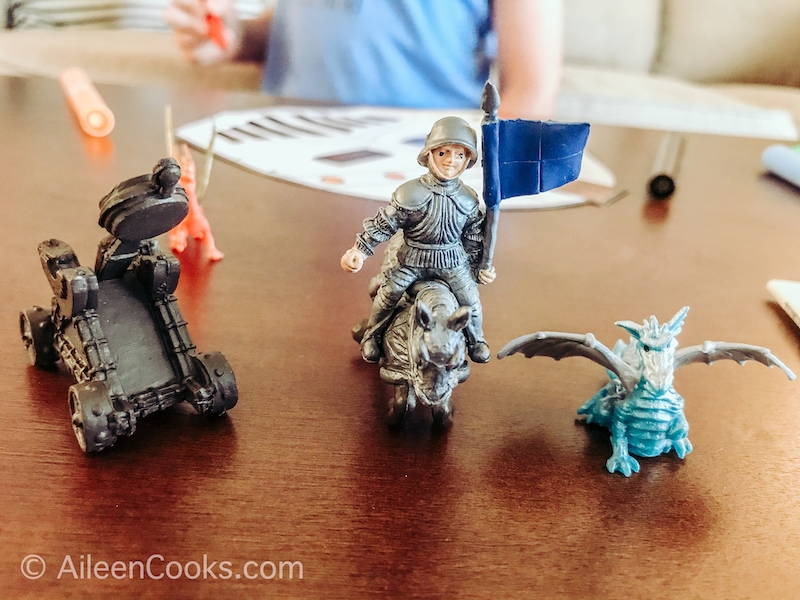 I also like that they come every-other month. Sometimes, getting a subscription box can feel a bit overwhelming – especially if you fall behind and hadn't gotten to the last months box.
Order Places, Please! Now
Can Places, Please! boxes be shared between siblings?
Yes! There is no need for a second box or sibling add-on for these boxes. All of the materials can be shared.
How much does Places, Please! cost?
At the time of publication, Places, Please! was $39.95 per box. You can sign up for a subscription of Places, Please! on CrateJoy.